Understanding Caregiving Duties and Responsibilities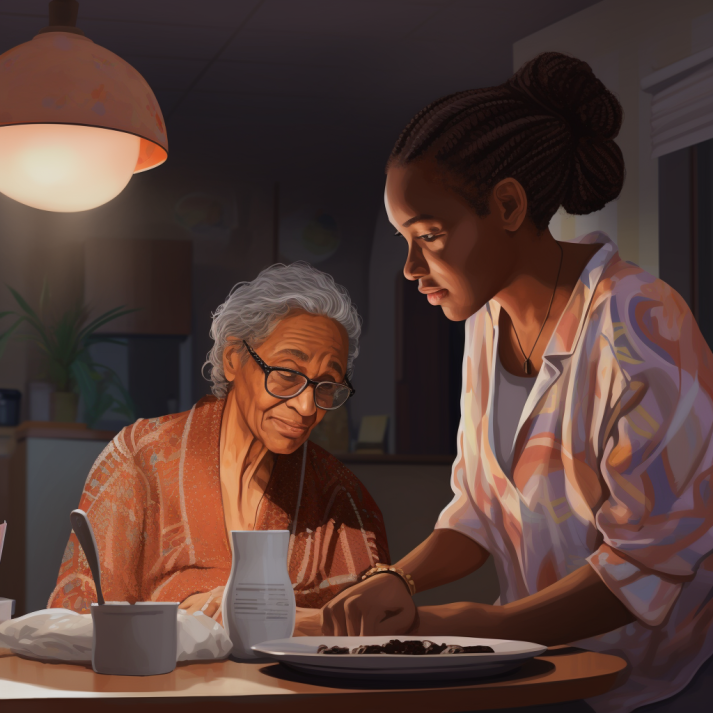 The world's aging population continues to grow, with people aged 60 years and over expected to total 2.1 billion by 2050 (United Nations, 2017). The vital role of caregivers in supporting these individuals, whether professionals, family members, or friends, cannot be overstated. In this article, we will delve into the role of a caregiver and explore in depth what caregivers do, their duties, and responsibilities.
Facts and Statistics: According to the World Health Organization (WHO), by 2050, nearly 2 billion people worldwide will be over 60, up from 900 million in 2015.
What Is a Caregiver?
A caregiver is a person who provides support to individuals—often elderly, disabled, or chronically ill—who require assistance in their daily life. Caregivers can be professionals, such as Certified Nursing Assistants or Home Health Aides, or non-professionals, like family members or friends, who step in to help when needed.
Facts and Statistics: Family caregivers provide nearly $470 billion worth of unpaid labor each year, about the same as the annual sales of Walmart, the world's largest company (AARP, 2019).
What Does a Caregiver Do?
Caregivers help individuals with their daily tasks, ensuring they are safe, comfortable, and maintain their quality of life. But their work goes much deeper than just a list of caregiver tasks. The caregiver's duties range from simple companionship and housekeeping to complex medical procedures.
Facts and Statistics: The National Alliance for Caregiving and AARP reports that nearly half of all caregivers (48%) perform complex medical tasks like wound care, managing medications, and giving injections.
Duties and Responsibilities of a Caregiver
Caregivers' responsibilities encompass many areas. We'll highlight several key caregiver duties to illustrate better what caregivers do.
Facts and Statistics: Caregiving responsibilities can be so demanding that 61% of family caregivers of adults have reported experiencing at least one impact or change to their employment situation due to caregiving, like cutting back work hours or receiving warnings about performance or attendance (AARP, 2020).
Preparation of Meals
Nutritionally balanced meals are essential for maintaining health. Caregivers often take charge of meal planning, preparation, and cleanup, ensuring dietary restrictions are followed.
Facts and Statistics: According to a Home Instead Senior Care network survey, nearly 50% of family caregivers express concern about their senior loved ones' nutritional health.
Nutrition
Caregivers ensure that the individual receives adequate nutrition, which involves monitoring food intake, ensuring proper hydration, and sometimes providing feeding assistance.
Facts and Statistics: The same survey reveals that 60% of caregivers worry their senior loved ones aren't eating properly.
Household Chores
Household tasks, such as cleaning, laundry, and basic home maintenance, are often the responsibility of caregivers. Keeping a clean and safe environment is crucial to the well-being of the individual under their care.
Facts and Statistics: According to Care.com, family caregivers spend an average of 13 days each month on tasks such as shopping, food preparation, housekeeping, laundry, transportation, and giving medication.
Caring for Pets
When the person under care owns pets, caregivers may also become responsible for pet care. This might include feeding, walking, and taking pets to vet appointments.
Facts and Statistics: A survey by AgingCare.com showed that 42% of caregivers look after their elderly loved one's pet, citing it as an additional stress factor.
Assisting with Hygiene
Caregivers often assist with personal hygiene tasks such as bathing, toileting, dressing, and grooming. These tasks are crucial to maintaining the dignity and self-esteem of the person being cared for.
Facts and Statistics: The National Institute on Aging reports that as many as 50% of elderly people have some level of difficulty with personal grooming and hygiene.
Shopping
From groceries to medication, caregivers often handle shopping duties. They ensure that the household is stocked with all the necessary supplies and that prescriptions are filled in a timely manner.
Facts and Statistics: The National Alliance for Caregiving and AARP found that 75% of caregivers manage household tasks such as grocery shopping and other necessities.
Medical Monitoring
Caregivers often play a crucial role in monitoring the health of the person in their care. This could include tracking vital signs, managing medication schedules, and observing any changes in health or behavior.
Facts and Statistics: AARP reports that family caregivers often find themselves performing tasks that would have been handled by nursing staff a generation ago, including managing multiple medications and medical monitoring.
Medical Advocacy
Part of the role of a caregiver often involves liaising with healthcare professionals, advocating for the best possible care, and ensuring the individual's needs are met, and their rights are respected.
Facts and Statistics: Studies by the National Association of Healthcare Advocacy show that patients with advocates are less likely to experience medical errors and have shorter hospital stays.
Health and Fitness
Caregivers also assist in maintaining the physical health of the individual. This might include accompanying them to physical therapy sessions, helping with exercises at home, or encouraging activities that promote physical well-being and mobility.
Facts and Statistics: According to the Mayo Clinic, engaging seniors in regular physical activities can help reduce symptoms of many chronic conditions, like arthritis and diabetes, and improve balance, stability, and mental health.
Conclusion
In conclusion, caregiver responsibilities are broad, deep, and varied. They are unsung heroes who play a significant role in supporting those who can't fully support themselves. Caregiver tasks are far from monotonous or mundane; they are intricate, requiring compassion, patience, and dedication. Whether they're cooking a meal, advocating for better medical care, or simply offering a listening ear, what caregivers do daily significantly impacts the lives of the individuals they serve.
Facts and Statistics: A 2015 AARP report revealed that there were approximately 40 million unpaid family caregivers in the United States, providing an estimated 37 billion hours of care to adults with limitations in daily activities.
References