6 Tips for Senior Caregivers During Stress Awareness Month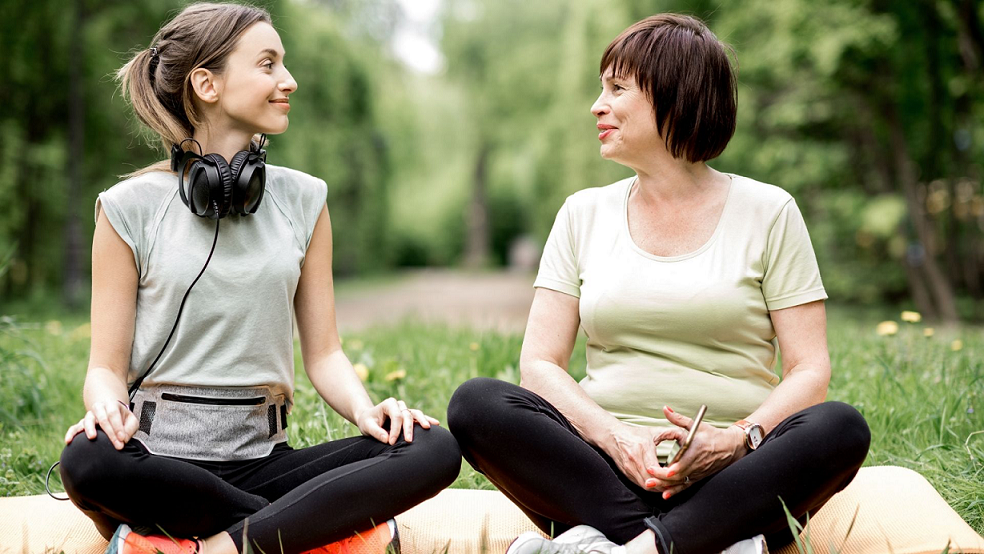 There's no doubt this has been one of the most stressful twelve plus months for most of us. It's been especially hard on those who care for aging loved ones.
Caregiving is no easy feat – add the additional stress of protecting yourself and your family from the coronavirus and it's not hard to see how stress levels can go through the roof.
April is Stress Awareness Month, a time to arm ourselves with knowledge so that we can recognize stress and deal with it in healthy ways.
If you are feeling the weight of stress as a family caregiver, now is the perfect time to learn more about managing stress.
Understanding stress
We've all felt it, the sometimes-debilitating feeling of being under stress. While we often associate stress as a negative condition, it's actually an important part of our biology. It triggers the "fight or flight" response we need when we face danger. But living with constant stress can be harmful in the long run.
According to The Federal Occupational Health, when a person perceives a threat, stress hormones rush into your bloodstream. This increases heart rate, blood pressure, and glucose levels. Other hormones suppress functions like digestion and the immune system, just a few reasons why prolonged stress can cause illnesses.
Danger can cause stress. But stressful feelings can also stem from work conflicts, financial issues, trauma, family conflicts, or anxiety. While one bad day won't wreck your health, experiencing weeks or months of stress can hinder your immune response and raise the risk of illness.
Keeping stress in check
Are you a family caregiver under a lot of stress? Try these caregiver tips to feel more at ease before feelings of stress take over.
Practice breathing
While we're breathing every second, certain breathing techniques can help us be calm and focused on stressful moments.
As a caregiver, you might experience moments of frustration, anger, or anxiety that can become overwhelming. When this happens, breathing deeply can make a huge difference.
It forces you to pause, slow down, and assess the situation before reacting. Try these deep breathing techniques that Navy SEALs use to calm themselves in life threatening situations. If it works for something like that, it might be worth a try!
Exercise
Getting up and moving is a great way to relieve stress and improve your overall health. Stress can make it hard to get motivated. Focus just on taking the first step into exercising, and then the next one, and so on. What seemed like climbing a mountain may turn out to be your favorite new way to reduce stress.
Exercise is known to help ward off conditions caregivers are often prone to, such as depression and heart disease. Finding new ways to stay active can help you get outside more frequently, meet new friends in a class, or simply find a new outlet for stress relief.
Reach out
Caring for an aging loved one can sometimes feel isolating. But you are not in it alone. Reach out to your friends and family for support. We all need to vent, hear a friendly voice, or escape responsibilities every once and a while.
It doesn't matter if you reach out in person, over the phone, through text, or online. The point is to connect with the people in your life who are there for you and can help you feel better when you're feeling down. And take time to build your caregiving team to help divide up tasks.
Laugh
You've probably heard that laughter is the best medicine. As it turns out, laughing is good for you and can actually help reduce stress. Try to find funny moments in caregiving situations to lighten the mood and reduce stress.
Accept you can't control everything
While this can be a hard one for family caregivers, it is so important. You put your whole heart into providing care for a loved one – and you're doing a great job.
Accepting that you can only do your best to help your older adult have the best quality of life possible and that a lot of things are simply out of your control can take a heavy weight off your shoulders.
When negative things happen despite all your efforts, remind yourself that it's not because you didn't try hard enough.
Talk to your healthcare provider
If you continuously feel stressed and it is affecting your physical or mental health, it's time to see your healthcare provider. They can assess your condition, provide the best steps moving forward, and offer professional tips on ways to reduce stress.
Are you a family caregiver feeling stressed about your responsibilities? We can help take some tasks off your hands with home cleaning and personal care services. Our compassionate, professional staff provides a personalized service plan to help your aging loved one stay safe, healthy, and happy at home. Contact us for more information at 330-515-5606 or referrals@vantageaging.org.