A Life Interrupted: A Lung Cancer Caregiver's Story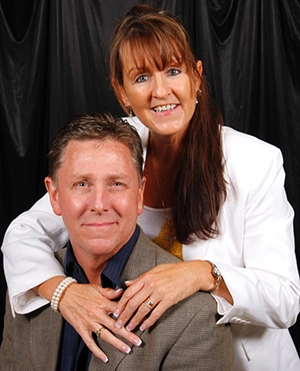 American Lung Association Updated for August 2021
Author: Karen McClelland
My cancer caregiver journey started in 2014 when my husband Michael woke me early on a Saturday morning with trouble breathing and tightness in his chest. We headed to urgent care where the doctor gave Michael a treatment to stabilize his breathing and the instructions to see his primary care physician.
At only 56, Michael was admitted to the hospital to have excess fluid drained from his lung. We were confused by this sudden health condition as Michael was a nonsmoker and very active, who had been given a good bill of health at his annual checkup.
We were thinking it was just a mild lung infection and medication would get us back on track to planning our 30th wedding anniversary celebration. Unfortunately, our life was interrupted when an unexpected guest showed up – stage IV lung cancer.
A Health Maze
Our cancer journey was not an easy one. We had physicians at multiple healthcare systems and no nurse navigators to bridge the communication gaps between our oncologist and other medical service providers.
We found the healthcare industry to be a maze of medical services operating in silos that left us with unanswered questions. We were given limited information if we didn't ask questions and rarely received direct answers.
Michael needed to strictly focus on his positive mindset and his cancer battle. So, as his caregiver, I acted as his champion and advocate to help navigate him through the maze of healthcare services and communication sharing.
An overwhelming number of tests and information overload is typical with any cancer battle. It was imperative to close the communication gaps and streamline the sharing of medical information to make critical and timely decisions.
Medical Hand-offs
High-risk cancer patients must have quality medical hand-offs for their survival. A hand-off is the information sharing between physicians, radiology, the ER, hospice and all other service providers to ensure the patient's care is not disrupted.
I learned that a stage IV cancer patient cannot tolerate a poor medical hand-off that shuts down their chemotherapy, the key lifeline to their cancer battle. For 14 months, Michael worked hard to beat his cancer, but experienced a sequence of poor hand-offs that impacted his chemotherapy and ultimately ended his fight within two months.
Stigma
As a caregiver, the key challenge was working against the smoker stigma associated with lung cancer. One experience in particular stands out to me. A lung doctor came into the room without reviewing Michael's file and asked, with an air of judgment, "Michael, you are a smoker, right?"
When Michael answered, "No," the doctor's face went from stoic to compassionate. All lung cancer patients deserve compassion, regardless of their smoking history. A paradigm shift in this area must occur to get national support and attention to fight the number one cancer killer: lung cancer.
Moving Forward
The night Michael transitioned to Heaven, I sat with my family reflecting on the rocky journey we had taken. I strongly stated that Michael's battle was just the beginning of my fight against lung cancer stigma and misunderstanding.
For the past five years I have been a strong champion and advocate for the American Lung Association as a Georgia boardmember and LUNG FORCE Hero. I have chaired major fundraising events and help found the Lung Association's National Lung Caregiver Advisory Group (LCAG). I am using my executive talents to design a national "STRIVE Hand-off Communications" framework.
STRIVE stands for Standing Together Regenerating Innovative & Vital Exchanges. The goal of this framework is to improve communications amongst medical professionals, enhance patient care and increase the survival longevity for stage IV cancer patients, all the while holding out hope that a cure may be right around the corner.
Join our National Advocacy Coalition and be prepared for an unexpected diagnosis