Conquering Cancer: An Inspiring Story of Survival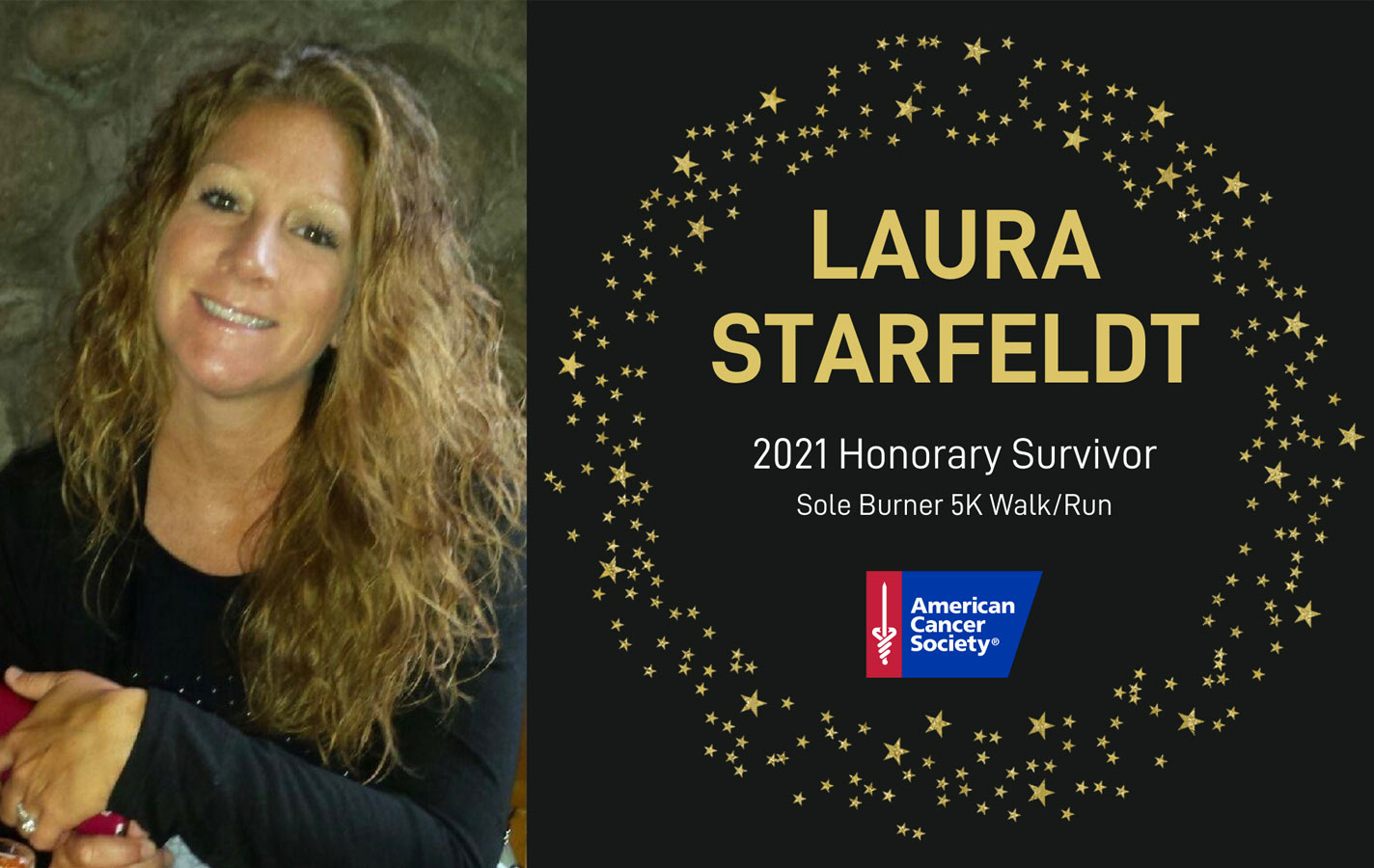 ThedaCare – Updated for December 2021
Author: ThedaCare Associate
For Laura Starfeldt, 2016 started on a high note. She married the love of her life, Brian, on January 9, and joined by her 16-year-old son, they started their journey together as a family of three.
Hoping to add to their family, Laura and Brian began trying for a baby. After several months without success, Laura was placed on hormone medications to assist with the process. They would eventually learn that Brian struggled with infertility and their best hope for conceiving would be through in vitro fertilization (IVF).
Emerging Warning Signs
The couple was devastated when their first attempt at IVF failed but were encouraged by their doctor not to give up hope. But for Laura, infertility struggles weren't the only thing weighing heavily on her mind.
"Within the same time frame, I had been experiencing extreme chest pain and discomfort around my breast area," said Starfeldt. "I was also experiencing multiple sinus infections."
Because Laura's symptoms were considered normal for someone undergoing hormone treatment, she was told not to worry. On Thanksgiving weekend, however, she discovered a large lump on the side of her breast and knew something wasn't right.
"I visited my primary care provider and they arranged for a mammogram to be performed on Monday, December 5," she said. "Little did I know that day would change my life forever."
A Startling Diagnosis
"I remember waking up that morning and Brian asking if I wanted him to come with me," said Starfeldt. "I of course told him that I would be fine and would call him after the appointment."
But Laura wasn't fine. It took just one look from the mammogram tech to know something was terribly wrong. An ultrasound confirmed her worst fears.
"I remember what I was wearing and how I was lying on the table when the radiologist walked in the room and told me I had breast cancer," she recalled. "I remember hearing the 'C' word and my whole world falling into this black whole. How can I have cancer? I don't even have a family history of cancer. I'm only 40. Am I going to die? How will I tell my family, especially my parents and son?"
"I remember what I was wearing and how I was lying on the table when the radiologist walked in the room and told me I had breast cancer."

Laura Starfeldt, Breast Cancer Survivor
The radiologist scheduled a biopsy for the same day, expressing the urgency to understand what Laura was up against and start treatment as soon as possible.
"Leaving the hospital that day was a blur," she said. "It was honestly the worst day of my life and one that changed me forever. I just remember asking God, 'why me?'"
Enlisting the Help of a Trusted Colleague
A registered nurse at ThedaCare, Laura returned to work the next day and sought the advice of Dr. Honnie Bermas, General Surgeon specializing in breast surgery at ThedaCare.
"I could barely spit out the words that I had cancer and needed her help," said Starfeldt. "She calmly told me that I would be ok and to come to her office the next day for an appointment."
The diagnosis was invasive ductal carcinoma.
Dr. Bermas explained that Laura's tumor fed off of estrogen, and if she was still interested in having a child, she would need to complete an embryo preservation within in the next three weeks. Laura started the IVF process six days later. Due to her cancer diagnosis, the Livestrong Foundation covered the cost of her IVF medications.
A Rollercoaster of Emotions
"That was the worst Christmas of my life," said Starfeldt. "How could I be expected to celebrate and be happy?"
Laura endured the draining process of undergoing multiple biopsies during the month of December while simultaneously injecting hormones into her stomach to support the fertility process. On New Year's Eve, she and Brian drove to Madison where the doctors retrieved only four eggs. They would have to wait five days to find out if any of the embryos made it.
On January 2, Laura underwent port placement, a lumpectomy due to concerns of bilateral cancer, and a sentinel node biopsy to check for metastatic disease to her lymph nodes.
Then, on Friday, January 6, 2017, Laura received the best news. She was informed she had two of the best grade embryos possible, and a serious chance at having children.
Only four hours later, her happiness would be dampened by the discovery that all five of her lymph nodes contained cancer and she would be starting chemotherapy in a week. She was diagnosed as stage three.
"It was the best and worst day of my life," she said. "But in the days that followed, my CT scan results would rule out distant metastatic disease. I prayed a lot and rejoiced in finally hearing good news about my cancer diagnosis."
"I prayed a lot and rejoiced in finally hearing good news."

Laura Starfeldt, Breast Cancer Survivor
A Lesson in Self-Love
"The next week I prepped for chemo and cried every day," said Starfeldt. "My biggest concern was losing my hair. That was one of my best attributes."
While attending a basketball game for her son, a successful athlete at Appleton West High School, Laura was presented with a $1,300 check made possible by donations from fellow team parents. They had collected the money to support the purchase of chemo caps that would help to reduce the chance of Laura losing her hair.
"I was humbled and overwhelmed with emotion," she recalled.
Prepping and caring for the chemo caps took a lot of work and required the assistance of Laura's husband and two friends, Jill and Coreen.
"The caps had to be packed in dry ice and rotated on my head every 20 minutes over an eight-hour span on the days I received chemotherapy," she said. "My family and friends were troopers. Not once did they ever bat an eye or complain about being there for me."
Unfortunately, Laura experienced side effects from the chemo caps and chose to forego future treatments.
"I ordered a wig and went alone to have my head shaved," she said. "It was exhilarating, to say the least. I chose not to let cancer control me, and as a result, I felt free and beautiful."
"It was exhilarating, to say the least. I chose not to let cancer control me."

Laura Starfeldt, Breast Cancer Survivor
Finding Peace
Over the next five months, Laura underwent 24 chemo treatments and continued working full time in an effort to take her mind off things.
"As weird as it sounds, I felt so much more stoic and confident after chemo started," said Starfeldt. "I knew – and hoped – the treatment was killing my horrible 12-inch cancerous tumor."
Though Laura had participated in the Sole Burner 5K Walk/Run in years prior, joining the race in May 2017 brought new appreciation.
"It really hit home," she said. "I took it all in and appreciated what the run/walk was all about. My goal was to finish the race running, and I did. But the following year, I was determined to be part of the survivor group."
Undergoing Treatment
On June 22, 2017, Laura had a bilateral mastectomy with tissue expanders placed. Although she considers herself to be pretty tough, she admits the procedure was painful. The real heartache, however, came with the news that followed.
"After the operation, Dr. Bermas revealed that I had eight more lymph nodes positive for cancer, bringing me to a total of 13," said Starfeldt. "Even after chemo, my tumor was still five inches when they removed it."
Laura also had cancer cells in her chest wall that could not be removed, requiring an extra week of pinpointed radiation.
"I was feeling down and defeated to say the least," she admitted. "And by day seven I was walking five miles because I was going crazy with boredom. Anyone who knows me well knows I am always on the go."
Seven weeks later, Laura would encounter another setback with her implant exchange, resulting in a major staph infection. She would require yet another surgery and 12 weeks of ab+, and her radiation would be delayed until the infection was cleared. She eventually received the go ahead to continue six weeks of radiation, five days a week. All the while, Laura never missed a day of work.
"Laura was always incredibly positive, proactive, and her own best advocate during treatment," noted Dr. Bermas. "She had a great attitude and committed to doing whatever needed to be done for the best outcome."
"Laura was always incredibly positive, proactive, and her own best advocate."

Honnie Bermas, MD, ThedaCare
Brighter Days Ahead
In November 2017, Laura celebrated her last cancer treatment.
"I have follow-up appointments with my oncologist every six months," said Starfeldt. "In many ways, the fight never stops. Every ache, pain and abnormal feeling puts me on high alert, but over time, the fear has lessened."
In addition to the triumph of surviving cancer, Laura and her family have even more wonderful news to celebrate. On September 19, 2018, they welcomed a son, Bennett Daryl Starfeldt, via surrogate.
"He has made our world a better place and is the apple of my eye," she said proudly.
Laura thanks the team members at ThedaCare and The American Cancer Society for their ongoing support and recognition as the 2021 Sole Burner Honorary Survivor, and she hopes her story will serve as a reminder to fellow cancer patients that they are not alone.
"I am so very humbled and honored to be part of this wonderful event," she said. "My life has been forever changed by this journey. I am no longer Laura, but Laura the survivor. I realized how strong and stoic I am. I realized I can conquer anything. I realized how many people love and support me. I realized how short life can be. I realized how much I needed God in my life. And I realized the power of prayer."