How Americans can help the people of Ukraine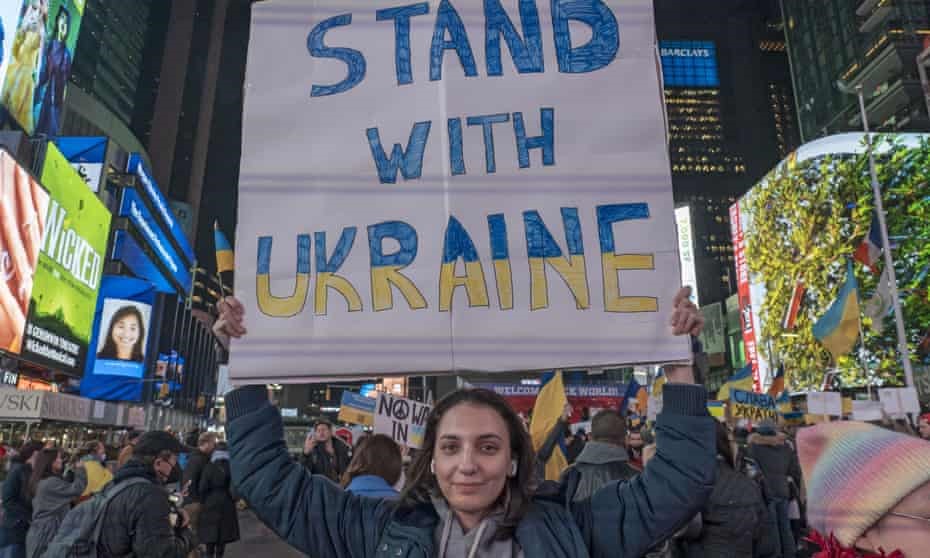 A protester holds a placard during the "Stand with Ukraine" rally in Times Square, New York
Photograph: Ron Adar/SOPA images/REX/Shutterstock
Matthew Cantor @CantorMatthew for The Guardian, Updated March 7, 2022
A number of charities are addressing humanitarian needs and US people can support Ukrainian journalism or get active politically
As the Russian invasion of Ukraine continues, Americans have offered an outpouring of support for the Ukrainian people. Here are a few ways you can join the effort.
Donations
Charity organizations are offering a wide range of support for those affected by the war. Here are a few that have received high marks (three to four stars) from Charity Navigator, which assesses groups' efficiency, transparency and other factors.
Write to your congressperson
You can use your zip code to find your local US representative here. Click on their image to find their contact information and voice your views on the Russian invasion. You can also contact the White House.
Attend protests or volunteer
Here is a list of forthcoming demonstrations against the invasion, including many in the US.
Support local Ukrainian journalism
You can support the English-language Kyiv Independent and the New Voice of Ukraine directly. There is also a GoFundMe page to support Ukrainian media more broadly as journalists risk their safety.