How Employees With Disabilities Are Influencing Workplace Trends In 2022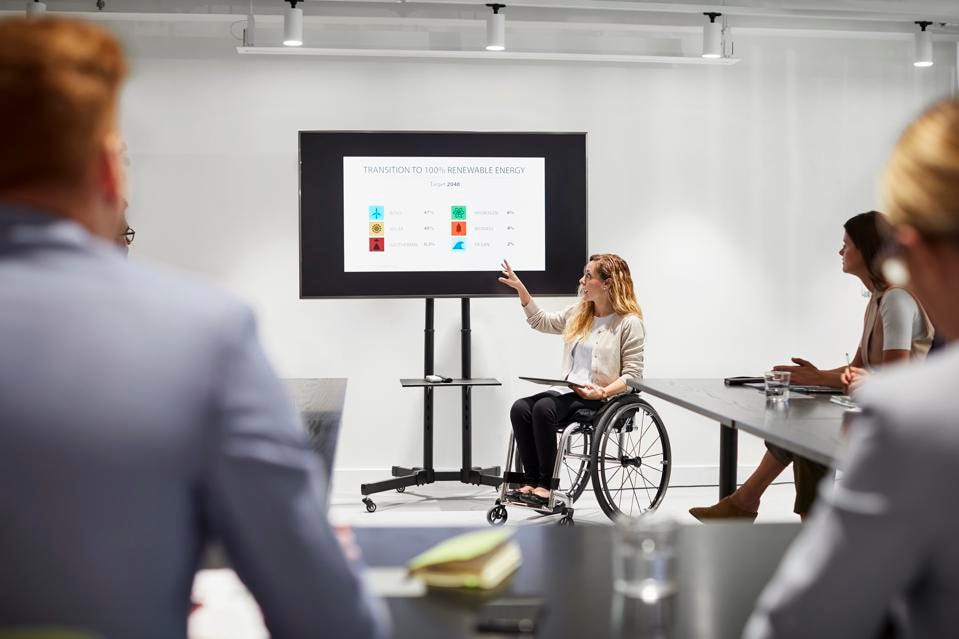 by Meg O'Connell Forbes Councils Member | Forbes Human Resources Council, Feb 8, 2022, Updated March 3, 2022
The past two years have brought about a lot of workplace changes, and we're not done yet. Our workplaces will continue to evolve throughout 2022 (and beyond) as we face the challenges brought by the ongoing effects of the Covid-19 pandemic. We've adjusted how and where we work; managed remote learning for our kids; responded to racial inequities; started talking about employee welfare, health and safety at work; and we closed 2021 with recruiting and retention challenges.
The past few years have also elevated the voices of employees with disabilities. The reverberation from the disability community has been loud and demanding — especially on the topic of hybrid and remote work.
As leaders, we have had to adapt to operational and employee experience challenges and continue to create workplaces that work for everyone, especially for people with disabilities. For this reason, we are sharing the top five trends we will likely see this year and beyond for disability inclusion.
1. Hybrid And Remote Working
The "new normal" is here. For decades, employees with disabilities have called for remote and flexible work arrangements. Historically, employers largely said no, with little exception. In 2020, we found many companies could easily and effectively move to online and remote work. The new normal of remote work is not only entirely possible but means more people with disabilities can join the labor force. Fine-tune your hybrid and remote working strategies and policies because they are here to stay.
2. An Emphasis On Mental Health
Employees have been more stressed than ever before. They are anxious about their physical and mental health. Adding to these stressors, financial insecurity has been a big issue, along with work-life balance becoming non-existent. Employers responded by providing free mental health resources like subscriptions to Calm or Headspace, as well as expanding paid mental health benefits. Online and in-person support expanded, and it seemed every employer began talking about mental health, which is a big step in ending stigma. Employees with disabilities will continue to advance workplace mental health practices, and as we create safe workplaces, they will deepen our knowledge around best-in-class workplace mental health strategies.
3. Expansion Of Caregiver Benefits
The pandemic highlighted the need for employers to provide better caregiver benefits, offering support, services and additional time off to assist with caregiving. A best practice we saw last year is a new policy allowing up to four weeks off for caregiving. But the real game-changer is that time can be taken in hourly increments to attend doctors' appointments, pick up a sick child or fill gaps in caregiving. I expect we will continue to see employers adopt and expand caregiver benefits. This is excellent news for all employees but particularly good news for family members with disabilities.
4. Employee Power
The Great Resignation has also been coined the Great Re-Evaluation. At first, we believed people didn't want to work, but we discovered that when employees are impacted by a life-altering event (like the pandemic), they re-evaluate what is important — and where and how they work were top of the list in 2020. People realized life is short, and they don't want to work for a company they don't believe in or drive an hour in traffic twice a day to get to an employer. We will see the power of the employee continue in 2022. New ways of working will evolve as employees with disabilities help create workplaces that work for all employees because employers are now listening.
5. The End Of Subminimum Wage
Unfortunately, due to an outdated law — section 14(c) of the Fair Labor Standards Act — people with disabilities can be paid a subminimum wage. We will continue to make progress to end the subminimum wage of people with disabilities. Only 10 states have outlawed this practice, but this year we could see more states banning this practice as people with disabilities continue to demand pay equity at every level.
The world of work will continue to evolve in disruptive and innovative ways. Employees with disabilities believe they are being listened to for the very first time. They will continue to raise their voices for accessible and inclusive workplaces and help us all create better workplaces for everyone.