How smart tech around the home can help seniors and their caregivers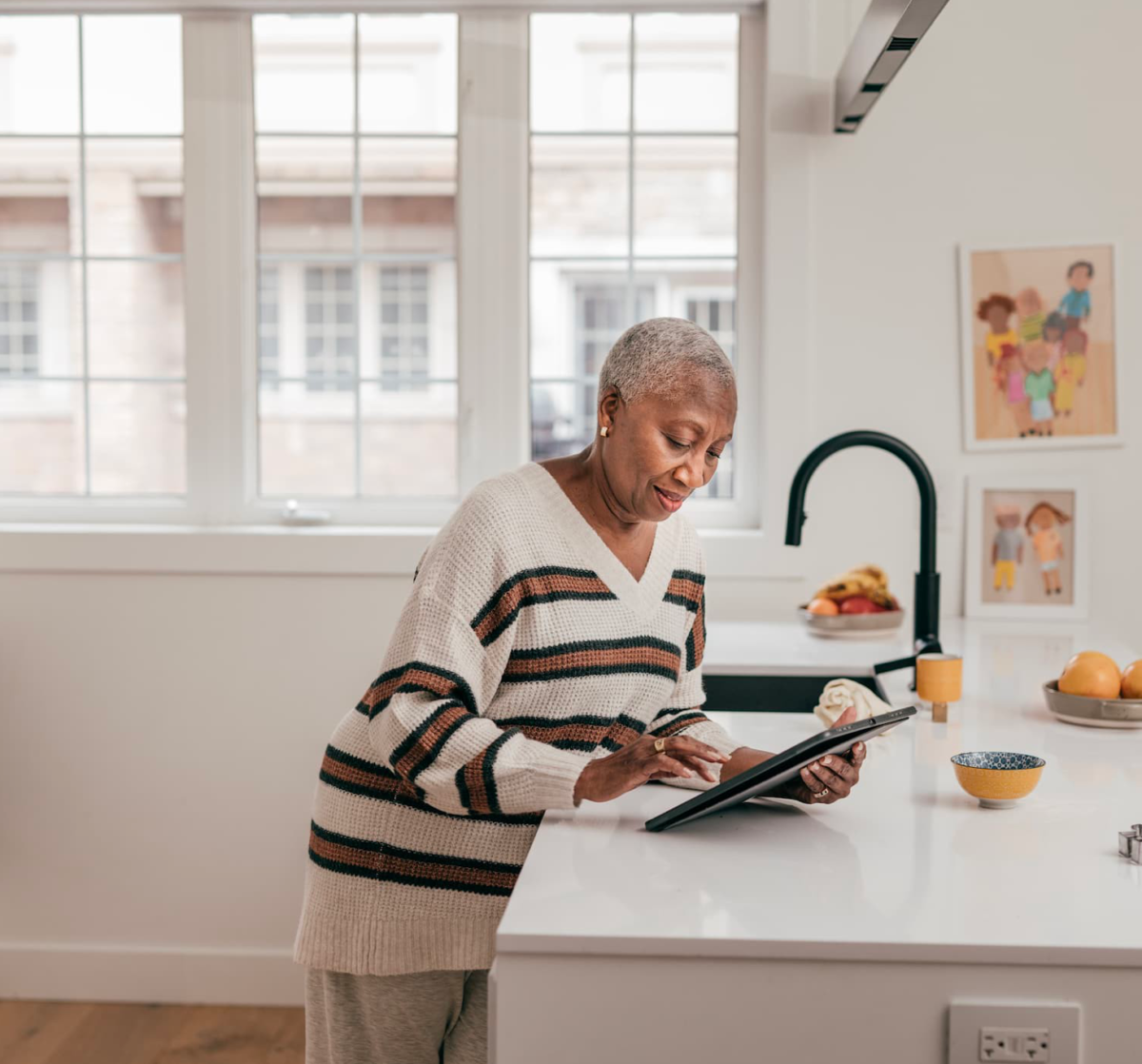 The Washington Post BY CHRISTINA STURDIVANT SANI January 25, 2022
How smart tech around the home can help seniors and their caregivers
Amy Goyer has been a caregiver most of her adult life. At 20, she began caring for her ailing grandparents. Then her mom had a stroke at 63, and her dad developed Alzheimer's. Later, her sister was diagnosed with Cushing's disease.
Over the years, Goyer crisscrossed the country to care for her loved ones. At some points, they lived with her. Other times, she monitored them from afar. Now AARP's national family and caregiving expert, Goyer, 61, says the most notable change in caregiving in her experience has been technology — particularly the smart tech that many seniors rely on to stay safe in their homes.
"New technologies are coming up all the time, and people are always sending me things to look at," says Goyer, who oversees the organization's Family Caregivers Discussion Group on Facebook, which has more than 8,000 members.
According to a 2020 report from AARP and the National Alliance for Caregiving, approximately 48 million Americans are caring for someone over the age of 18. About half of all caregivers used at least one piece of technology or software to assist with their responsibilities.
Goyer recommends getting a medical alert system as a basic starting point for caregivers of the elderly. You may remember the phrase "I've fallen, and I can't get up!" from a commercial that premiered in the late 1980s. That system, Life Call, is still one of the most popular ways to keep seniors safe in their homes. Here's how it works: People who need monitoring will have a pendant or wristband affixed to them. If they have an accident, such as a fall in the bathroom, they can push the alert button to call for help.
There have been advances in this arena, such as radar fall detectors that can be placed throughout the home to monitor motion. If a person falls, the proper authorities will be notified without the person having to push a button.
Raphaela OBrien, president of Springfield, Va.-based AIVI Global, says sensors are an important component of her company's services for aging in place.
"You're putting sensors throughout the house that let you know if they're going in and out of the fridge or in and out of the cabinet where their meds are," OBrien says, or if they are sitting in the chair watching TV for an extended period. AIVI's package for caregivers also includes setting up emergency alert systems, automated security systems and wireless Internet.
Meanwhile, better WIFI, smaller chips and more powerful batteries have led to significant improvements in the quality and quantity of smart home products, says Chris Vives, chief operating officer of Rockville, Md.-based A.B.E. Networks. "There used to be a couple of things that were neat, but now if you're going to a Best Buy, there are six aisles of it," he says.
This explosion of smart home technology has afforded caregivers a plethora of options for creating more meaningful and thoughtful living conditions for their loved ones. While a bachelor may use an in-home audio system for movie nights and house parties, a caregiver may use it to program reminders for when a parent needs to take medication or go for a walk.
The audio alerts can even use the voice of a relative. "Hey, Mom, it's time to play bridge with your neighbor, it's time to get ready for dinner," OBrien says. When seniors are in a bad place emotionally, "it's comforting for them to hear a loved one tell them something, even if that person is not there."
Home audio systems are also helpful for people who have trouble using a phone. "A lot of folks say they get a smart speaker, so they can just say the keyword and then call Mom," Goyer says.
When she was caring for her parents, Goyer found that video systems helped calm her nerves. "Sometimes, I didn't even say anything. I just wanted to see them and know they're okay," she says. Speaking to someone on video can also be revealing, Goyer adds. "You can talk to someone on the phone, and they can seem perfectly fine. But if you see them, you might see that they don't look like they've showered in a long time, or they're wearing the same clothes every day. You see the mail is piling up behind them or other red flags that more help is needed."
While, anecdotally, monitoring tools such as sensors and video cameras have proved to be helpful, William Dale, director of the Center for Cancer and Aging at City of Hope, warns that these devices come with ethical questions.
"Are you monitoring people who know they're being monitored," he asks, "or are you tracking people who are unaware of it while it's happening?"
Dale says video technology is better for communicating or when it's strategically placed throughout the home, such as near the stairs in case of a fall. The biggest challenge, he says, is people having monitoring devices without planning their next steps for when something goes wrong. "Someone fell down and now they're still just lying there without a plan," he says. "I would be in favor of creating a safer home rather than simply observing."
In terms of home safety, long-distance caregivers can take advantage of home integration systems they can control remotely, Goyer says. This can include items such as security cameras, video door alarms, water-leak monitors, temperature controls and smoke detectors.
There's even technology that monitors kitchen appliances. "One of the things that happened with my grandmother was she caught a pan on fire. She forgot to turn the stove off," Goyer says.
Now, there are affordable products such as discs that attach to a stove's knob and will continuously blink or beep after the stove has been in use for a preset amount of time and smart knobs that can control a stove's heating settings from an app. Caregivers can also invest in more expensive products, such as sensors that shut stoves off when they don't detect motion in the kitchen for five minutes.
For any caregiving technology, Goyer advises choosing products that offer over-the-phone technical assistance. And everyone needs to be willing to keep an open mind. "Sometimes people think of technology as, 'Oh my gosh, I can't deal with that," she says. "And we have caregivers in every generation. A quarter of caregivers are millennials, so they're going to have a whole different approach to the technology than caregivers who are in their 80s caring for a spouse or their sibling or someone like that."
"Both the caregiver and the care recipient have to be open and adaptable to trying some of these things," Goyer says.