Spotlighting the San Diego Veterans Coalition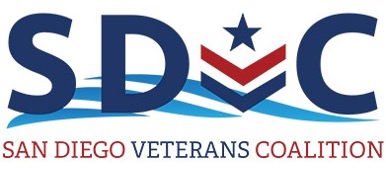 Interview with Ron Stark, President of SDVC (San Diego Veterans Coalition) and the Board Champion for FLAG (Family Life Action Group).
Ron has a Bachelor's in Business Management, an MBA, and is a Licensed Advanced Alcohol and Drug Counselor – CA (LAADC-CA).
Ron considers himself a farmer by birth, a tinker by nature. Everything else he learned along the way.
He started out in the Navy at 17, too young to enlist, so he got a permission slip from his parents to join the Navy.
Ron considers himself a much better veteran than he ever was a Sailor. As a Navy veteran, he has worked with other veterans and their families for nearly 27. Aside from his own experience serving, two of his sons and two sons-in-law have served. This experience helps him relate even more to the families of veterans, which is where he most aligns.
Ron worked for Veteran's Village of San Diego as the Operations Manager for Alcohol and Drug Services. Feeling he needed more credibility; Ron was motivated to become a Registered Addiction Counselor. He considers himself more of a guide than a counselor.
Ron is someone you can walk along with and have a comfortable and positive conversation with those he helps. He has walked along with many veterans over the years, enjoys making connections, and wants everyone to feel like there is someone to look out for them and check up on them.
SDVC was established in 2009. Ron was working as a Design Implementation Manager for Courage to Call, a 24×7, 365-day support, referral, outreach, and peer navigation program run by veterans and their families. Mental Health Systems called Ron and asked him to come down and help start a new program. It was a "first of its kind" collaborative program combining the core services of Mental Health Systems, Veterans Village San Diego, and 211 San Diego. Each organization would work toward a common goal, much like a military approach of units and squadrons using their influence to achieve the greater mission.
Ron described the beginning of SDVC in early 2009 with community members representing several dozens of organizations in a round table discussion about what was needed regarding Veteran integration into the general community. San Diego's Military bases and Veterans Administration had a transition program for the military, but there was no cohesive reintegration into the community beyond that. That is how and why SDVC came to be. They formed a group of like-minded organizations, started strategizing, and documenting their thoughts.
In 2010 the coalition outgrew every venue where they met. The coalition solved this challenge by forming four action Groups: FLAG (Family Life Action Group), E3 (Education, Employment, and Entrepreneurship), PEH (Physical & Emotional Health) & VEST (Veterans -Empowered, Successful, and Thriving).
SDVC is a big tent organization. It runs more smoothly than siloed self-contained units. The Action Groups and member organizations can combine outreach, staffing, and volunteers. SDVC now has over 150 member organizations, divided into four action groups.
While there is no monetary cost to becoming a member of SDVC, they do expect "sweat equity," where potential members must demonstrate that they put in time and effort. They must attend 6 months of meetings, actively participate in one or more action groups, and fill out an application before becoming members. When looking at how someone will serve as an SDVC member, the leadership reviews how potential members will work with veterans and their families and other organization that serve them.
Ron said the most significant thing he brings to SDVC is his penchant for being an explorer. His passion for the organization and for veterans and their families is clearly present.
There are over two hundred and fifty thousand veterans in San Diego County. Considering that SDVC works with veterans and their families, it would be easy to say that SDVC has most likely touched over 10 million lives since 2009.
SDVC was the organization that took charge of mobilizing San Diego County organizations during the pandemic to meet virtually online for the County of San Diego Office of Emergency Services for a weekly Military, Veteran, and Family COVID-19, starting April 2020 through April 2021, and then twice monthly through June 2021.
They are truly leaders in the community they serve and inspire veterans to form similar coalitions in other large areas.
At SDVC, "you have a place to be where you belong and where you are needed." – Ron Stark.