National Institute for Health January 2022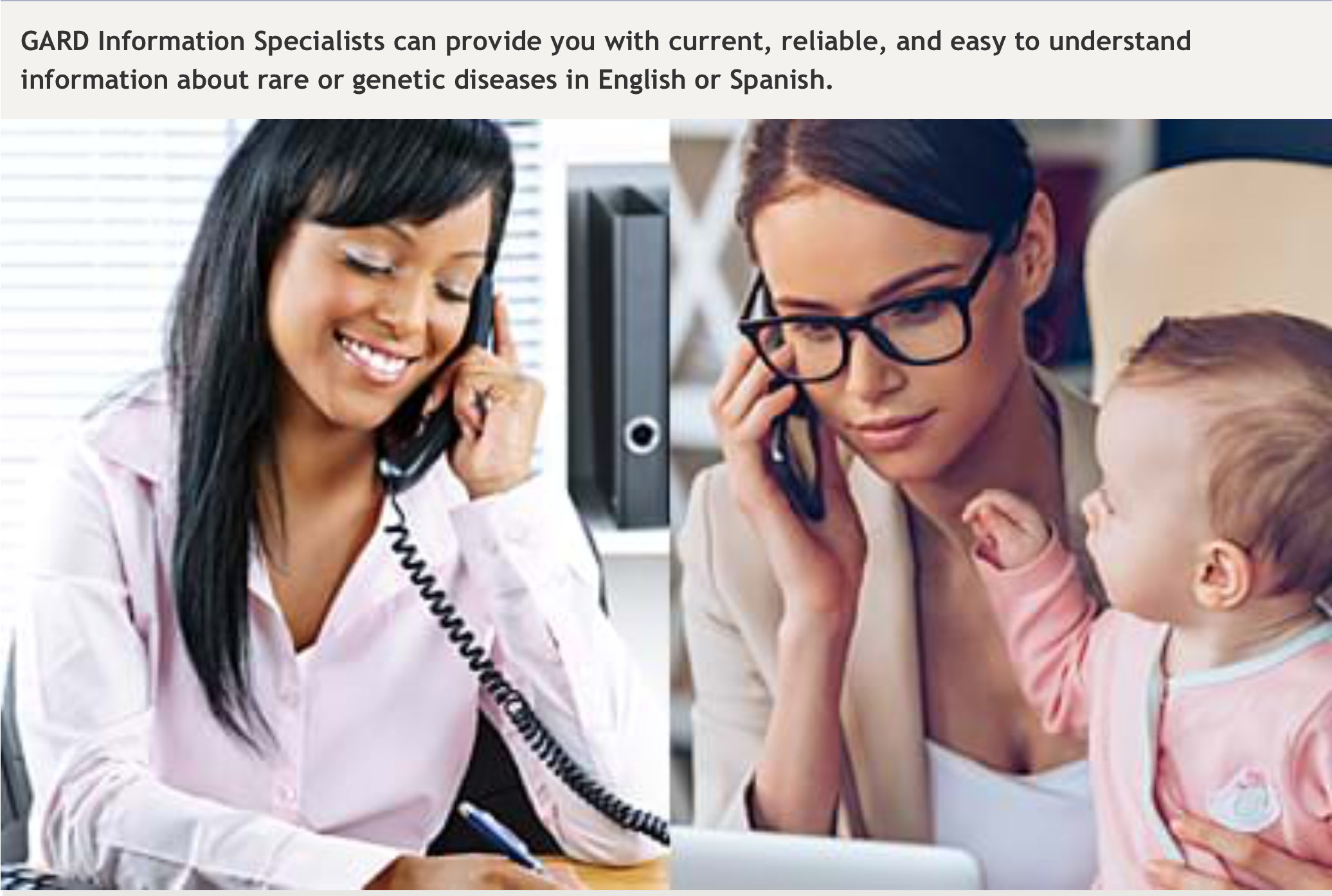 The Genetic and Rare Diseases Information Center (GARD) is a program of the National Center for Advancing Translational Sciences (NCATS) and is funded by two parts of the National Institutes of Health (NIH): NCATS and the National Human Genome Research Institute (NHGRI). GARD provides the public with access to current, reliable, and easy-to-understand information about rare or genetic diseases in English or Spanish.
Who can GARD help with information?
People who have rare or genetic diseases.
Parents, family members, and friends of someone with a rare or genetic disease.
Doctors, nurses, genetic counselors, other health care providers, social workers, and teachers who work with people with rare or genetic diseases.
Scientists who are studying rare or genetic diseases and need information for their research or for people taking part in studies.
Community leaders who are helping people find resources about rare or genetic diseases.
Advocacy groups who want up-to-date disease information for their websites. Members of the general public who want to learn more about a rare or genetic disease.

Where should I start my search for information on a rare or genetic disease?
Visit the Diseases section of our site to search for a disease. Each disease has its own webpage, where Information Specialists post the answers to questions GARD has received.
Check the GARD webpages for the following and more:
Questions answered by GARD Information Specialists.
Links to resources where you can find more information.
Information about genetic testing and genetic services.
Scientific conferences that have been sponsored by NIH.
Organizations that provide information and support.
Information about research studies and clinical trials.
FDA-approved medications for rare diseases.

Where does GARD get information?
Information Specialists search the following and more:
NIH resources.
Medical textbooks.
Journal articles.
Websites.
Advocacy groups' literature and services.
Medical databases.

What if I can't find the information I'm looking for?
Reliable information about rare or genetic diseases is often hard to find. If you can't find the information you need on our website, please call or write to GARD, and our Information Specialists will answer your questions.


How do I contact GARD?
Information Specialists are available by phone Monday through Friday, 12:00 p.m. to 6:00 p.m. Eastern time (excluding federal holidays).
PO Box 8126
Gaithersburg, MD 20898-8126
Toll-free: 1-888-205-2311
International number: 301-251-4925
TTY: 1-888-205-3223
Fax: 301-251-4911
E-mail form: https://ncats.force.com/gccinquiries/GccInquiryFormEn
Website: http://rarediseases.info.nih.gov/
Who is the NCATS staff contact for GARD?

Anne Pariser, M.D.
Director
Office of Rare Diseases Research
National Center for Advancing Translational Sciences (NCATS)
National Institutes of Health
Email: anne.pariser@nih.gov
Phone: 301-402-4338
Staff Profile: https://ncats.nih.gov/staff/pariserar