Over 200,000 "COVID Orphans" in U.S. have lost a parent or caregiver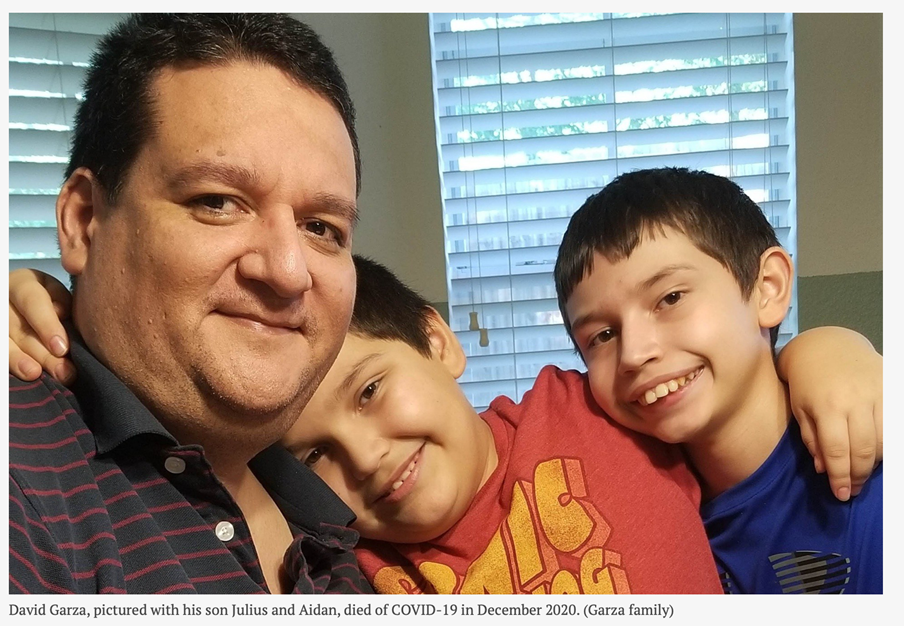 By Khaleda Rahman for Newsweek, updated Feb 10, 2022
When Margaret and David Garza adopted their two boys in 2015, they felt their family was finally complete.
But five years later, their lives were rocked when David, 48, died suddenly of COVID-19. He was on his way to the doctor to pick up medication on December 30, 2020, when he called her from his truck because he was struggling to catch his breath.
"He wasn't hyperventilating, he wasn't freaking out or anything. He was just like, 'I can't catch my breath,'" Margaret Garza, 58, told Newsweek.
She called an ambulance, then called her husband back. "I said, 'you're going to be fine. You're going to be fine. I love you. And he says, 'I love you.' And then the last thing I heard him say was, 'please help me.'"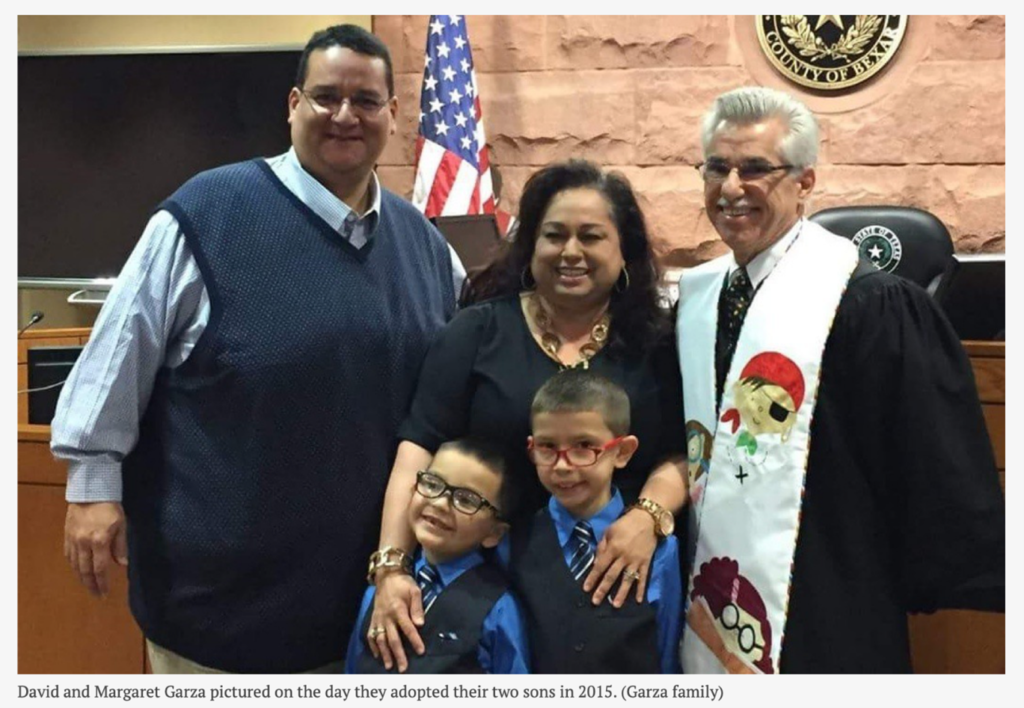 A week earlier, she had tested positive for COVID-19, but her husband's test had come back negative. Several days later, he developed a cough. "No other symptoms, he didn't have a fever… he just had this cough," she said. "And then two days later, he died."
Although her husband had diabetes and was overweight, Garza said she never for a second thought he would die. "I would always tell him, you're going to outlive all of us," she said.
Now, she is left to raise their sons Julius, 14, and Aidan, 12, in San Antonio, Texas without her husband of 16 years.
But their family isn't alone—a modeling study published in the medical journal Pediatrics in October estimated that more than 140,000 children in the U.S. lost a parent or caregiver to COVID-19 from April 2020 through June 2021.
That number has now grown to more than 200,000 children, Dr. Charles Nelson, a professor of pediatrics and psychiatry at Harvard University and a co-author of the study, told Newsweek.
Nelson and his fellow researchers coined the term "COVID orphan" to describe children who lost a primary caregiver to COVID-19.
"The reason we wanted to bring attention to this problem is that it was a hidden problem," he said. "People weren't looking at the secondary and tertiary toll that the pandemic was having. This is one of them, that kids were losing caregivers."
The study also revealed wide racial disparities, with children of color losing parents and caregivers at far higher rates than white children. "We know that the pandemic generally is disproportionately affecting people of color, so it shouldn't be a surprise that a disproportionate number of COVID orphans are represented among non-white children," Nelson said.
He and other experts are concerned about the impact the loss of a primary caregiver—a parent or grandparent responsible for providing housing, basic needs and care—could have on those children.
While many are being taken in by relatives, some will likely end up in foster care. "Under no circumstances should these children be put in institutions," Nelson said. "There is a risk, particularly for older kids, that they could be put in group homes or residential care, rather than placed with family."
But parents left to take care of children alone or the relatives who take them in will likely suffer from financial hardship and stress, said Tami Logsdon, program director at the Children's Bereavement Center of South Texas.
"We know circumstances of people as young as 20 who are attempting to care for three younger siblings," she told Newsweek. "Obviously, they cannot do that without support."
Logdson said COVID-bereaved children can also easily fall behind in school, and struggle to catch up. The disruption to their lives could also cause them to act out or cause other changes in behavior, she said.
Garza said her sons were left devastated by the loss of their father, who she described as "the perfect dad." "He truly loved them," she said. "He could be fussing at them one minute and the next minute, the boys are loving on him."
Her sons had gone into foster care aged two and four, she said. "So, when we adopted them, they had that stability of a mom and a dad… and then their dad died. That was taken away from them."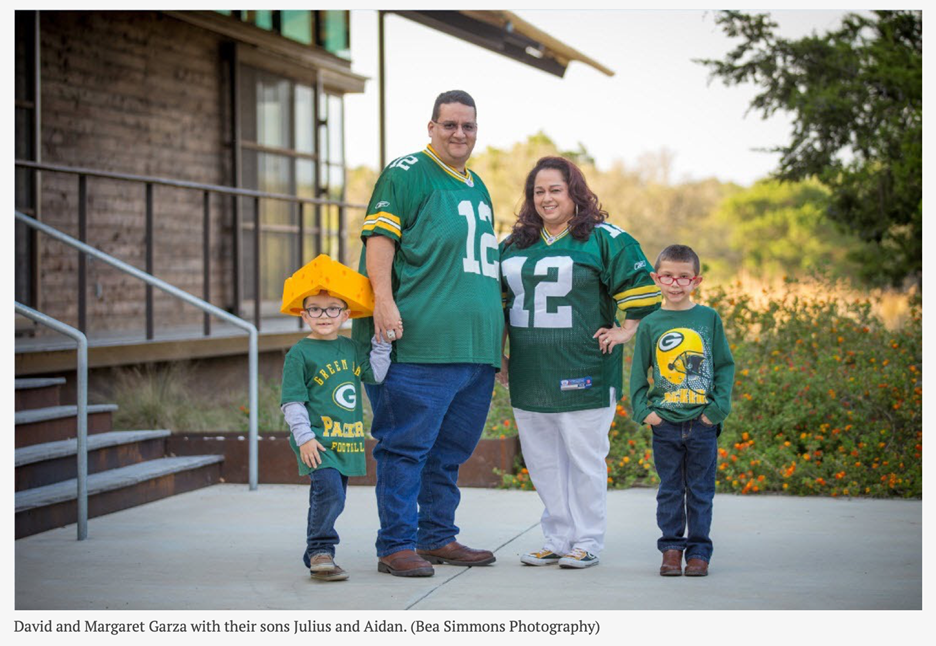 Since then, they have become her "protectors" because they are afraid of losing her too. "I think they somewhat live in a little fear because they know that their dad died of COVID," she said. "They wear their masks, they wash their hands, all those things… they're very cautious."
Garza said she also had to reassure her sons that they wouldn't be uprooted. She ensured they kept the same routines and continued to see their therapist regularly.
Nelson and other experts say urgent action needs to be taken to identify and support these children through the trauma of losing a parent or caregiver to COVID-19.
In December, a bipartisan group of advocates known as the COVID Collaborative released a report—titled "Hidden Pain"—detailed how the death of a parent or caregiver can hinder a child's development for the rest of their lives, and how prolonged grief could also lead to depression, anxiety, post-traumatic stress disorder, substance abuse, and suicide.
The report called for a coordinated effort to identify the children who have lost a parent or caregiver through schools, health care settings, and other community-based organizations, and connect children and families to the support they need.
It also called for the creation of a COVID-Bereaved Children's Fund, similar to those set up to help the victims and families of the September 11, 2001 attacks and HIV/AIDS orphans, with priority given to those children who lost their only in-home caregiver.
Other recommendations included expanded access to mental health care in schools, for Congress to make the expanded child tax credit permanent, and executive action from the federal government to support affected children.
"We need to know which kids have been orphaned by the pandemic, then we need to provide those kids with mental health resources that are going to be required to make sure they don't really suffer for the long term as well as the short term," Nelson said. "The second issue is, who's responsible for this? Someone needs to step up and assume responsibility."
The number of children losing parents and caregivers to COVID-19 will continue to rise, he said. The U.S. needs "a more organized response to this, to make sure kids don't fall through the cracks, and that they get the help and the support they need."