People Over 80 Are Still Taking Care of Their Parents and Partners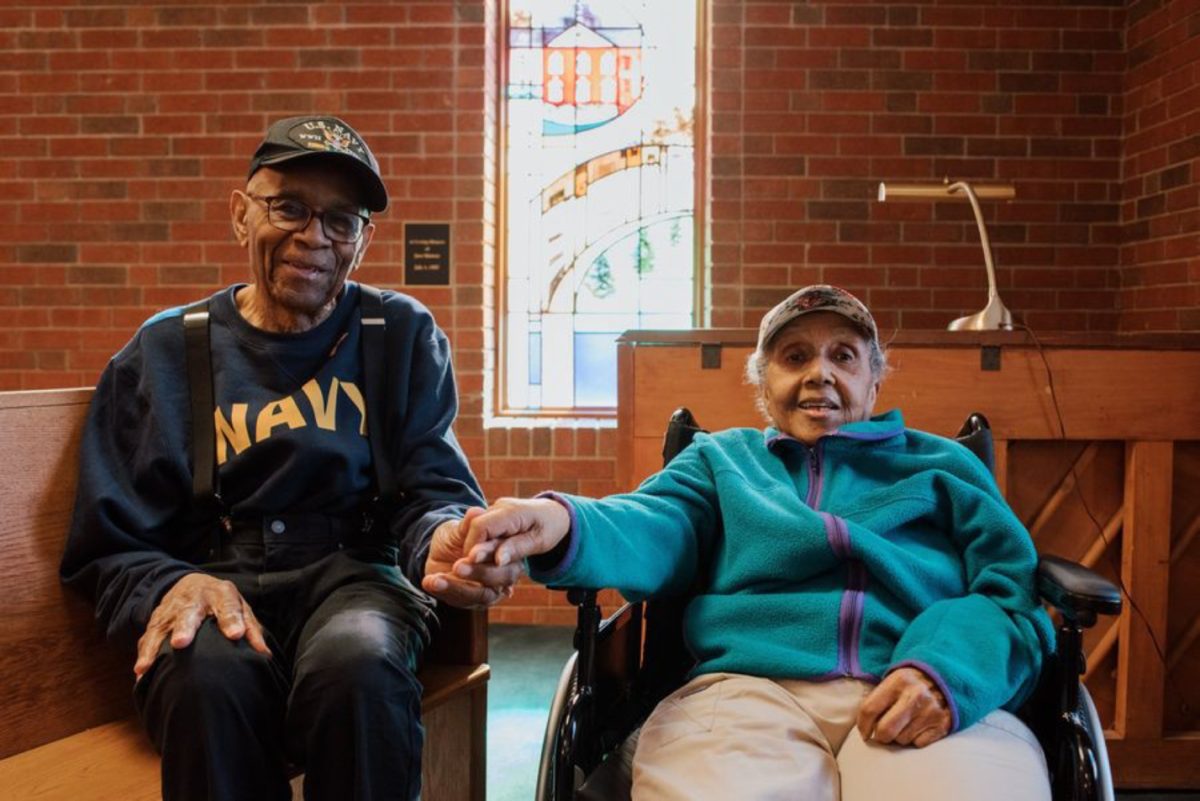 As we live longer, more people are caring for loved ones well into their retirement years
Elijah and Minnie Gardner in the chapel down the hall from their apartment in an assisted-living community in Valencia, Pa.
By Clare Ansberry |Photographs by Kristian Thacker for The Wall Street Journal Feb 9, 2022, updated Feb 20, 2022
The U.S. population is aging, and so are caregivers. Bob Tiller, an 80-year-old retired lobbyist for nonprofits, manages care for his 101-year-old mother.
Both live in continuing care communities, he in Silver Spring, Md., and she in western Pennsylvania. If there is an emergency, Mr. Tiller gets the phone call and makes the five-hour drive.
"I'm the one who is officially responsible, the one who has to make sure her income taxes are filed and needs to be available in the middle of the night if there's a health crisis," says Mr. Tiller.
The increasing number of caregivers 65 and older is adding a layer of fragility to the nation's already strained family caregiving system, long the backbone of long-term care. Having a loved one around in old age is a blessing for many and caring for a loved one provides a sense of purpose. But the duties are upending what many had expected from their retirement years.
An estimated 19% of the nation's 53 million unpaid family caregivers are 65 and older, up from 13% in 2004. Caregivers in advanced age—75 and older—now represent 7% of caregivers, according to the 2020 Caregiving in the U.S. report by the National Alliance for Caregiving and AARP.
Older caregivers are likely to be dealing with their own health needs. They might not be in the "sandwich" stage of life, juggling a job and teenagers, but may have arthritis and a bad hip, live on fixed income, and live 500 miles away from the person whose care they are responsible for.
"People need layers of support and backup plans," especially when caregivers are older, says Louise Aronson, geriatrician, and professor of medicine at the University of California, San Francisco. A few years ago, she had a patient, a mother in her 90s, who outlived her caregiving daughter who had a stroke in her late 60s.
Older caregivers can benefit from the feeling of well-being in caring for others, but the physical demands of tasks, such as helping an even older loved one get out of chairs or into beds, also take a toll. Constant worry and lack of sleep can add up, too.
Maryjo Cleveland says when she started geriatrics in the early 1990s, her 75-year-old patients were being cared for by their 50-year-old daughters. "Now the 70-year-old daughter is caring for the 95-year-old mother," says Dr. Cleveland, who also teaches at the Wake Forest School of Medicine in Winston-Salem, N.C.
"This is a cosmic shift," says Dr. Cleveland, who now has family dyads in her practice: geriatric parents and their geriatric children. Advanced-age caregivers also include relatively healthy. Centenarians looking after their spouses. Up until a few years ago, Elijah Gardner, 100, bathe his wife, Minnie Gardner, 94, who is in later stages of Alzheimer's. "I gave her a complete shower until I couldn't do it anymore because I was getting a little dizzy," says Mr. Gardner.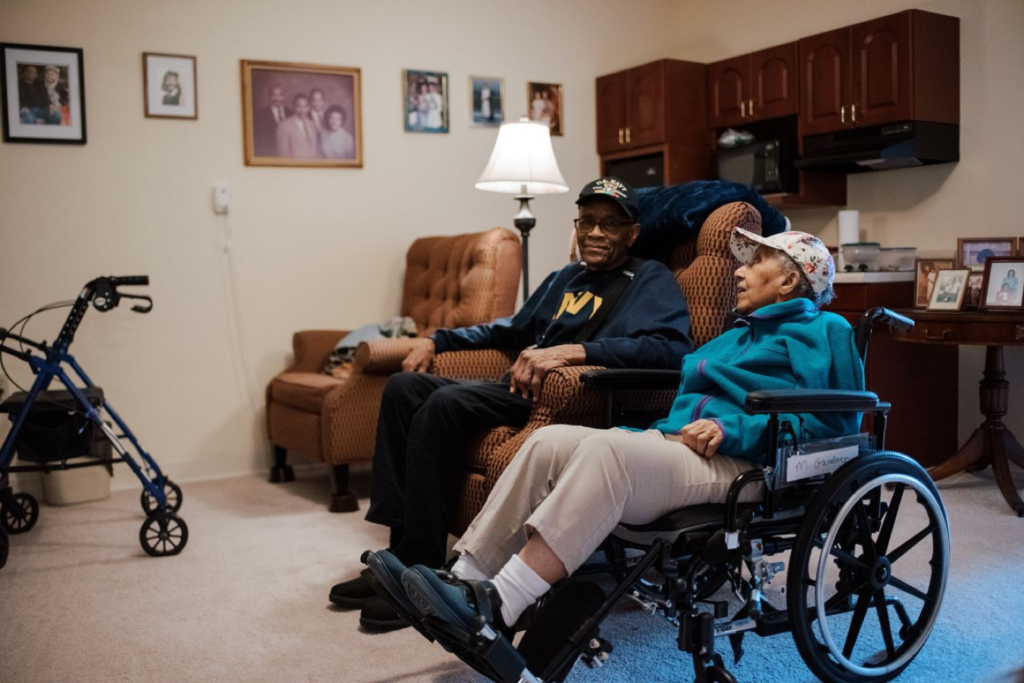 Elijah and Minnie Gardner relaxing at their home in the Arbors Valencia in Valencia, Pa.
A World War II U.S. Navy veteran, Mr. Gardner worked in Pittsburgh's steel mills before joining Veterans Affairs. Mrs. Gardner worked nights as a nurse's aide, so one parent could be home with their two boys. "Caring for family was everything to them," says their son Kelvin Gardner, 59, who recently retired from the U.S. Air Force.
In August, the Gardners moved to the assisted-living community the Arbors Valencia, which is part of St. Barnabas Health System. The elder Mr. Gardner wishes he could have stayed in the family home, but accepts it was time to leave for his wife's sake.
"If anything happens to me, what will happen to her?" he asks. They share a small two-room apartment, their reclining chairs side by side. Black-and-white photos from their wedding 70 years ago hang on a wall, along with pictures of their sons and two grandsons in U.S. Coast Guard uniforms.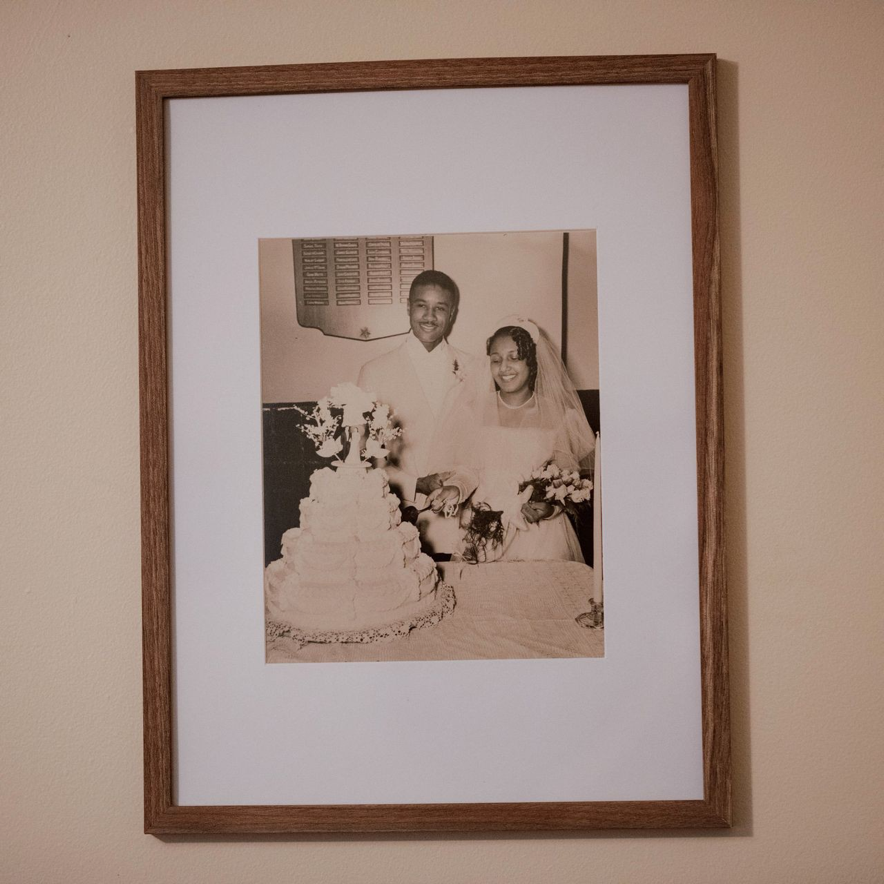 The Gardners share a small two-room apartment where black-and-white photos from their wedding 70 years ago hang on the wall.
If Mrs. Gardner needs a tissue or drink of water, her husband gets it. Waking in the morning, or from a nap, her first words are "Where's Elijah?" and he answers, "I'm here." Their son says that while the St. Barnabas staff took over bathing, feeding, and dressing, "Dad still has a 24-hour watch."
About 10% of adults aged 60 to 69 whose parents are alive act as their caregivers, although many never expected to assume a mom's or dad's care in their retirement.
Peg Gluntz, 63, is an only child. She cares for her dad, Robert Connelly, 100, who lives in a neighboring ranch-style apartment in Perrysburg, Ohio. She manages his grocery shopping, bills, medications, and doctor's appointments. If she sees his lights on late at night, she goes over to check on him.
Her father says he would be in assisted living if not for his daughter. "I'm pretty old," says Mr. Connelly, who cared for his late wife when both were in their 90s. "I can't walk very well."
Ms. Gluntz says her father is in relatively good health and isn't demanding. But his care and well-being are always on her mind and are things she didn't anticipate at this point in her life.
She says she envisioned traveling with her husband, a doctor, when he retired. "I'm caring for my elderly father when my own sun is possibly setting. There are people who die at that age."
Adult children often remain very involved when parents live in a continuing-care community.
"It's not like you drop someone off and wash your hands," says Dr. Cleveland, the Wake Forest geriatrician. Mr. Tiller, the 80-year-old caregiver, consults regularly with his sister, Jeanne Peterson, who lives in California. She is also caring for her 88-year-old husband, who has Alzheimer's disease.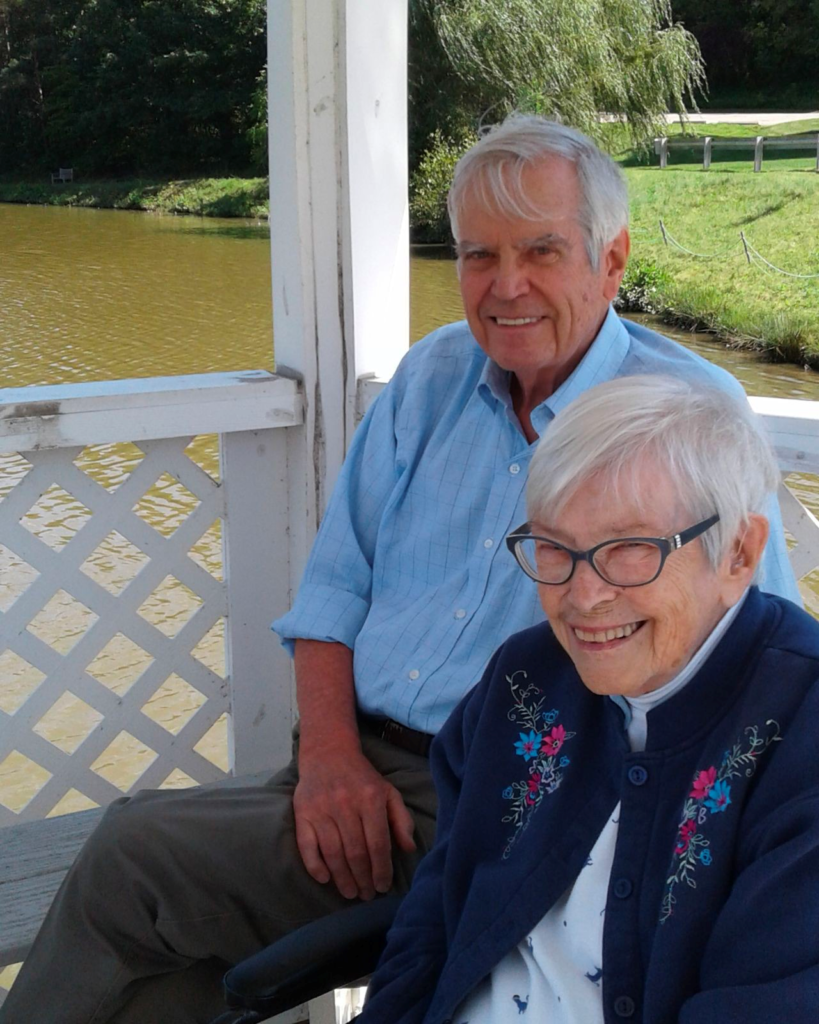 Jeanne Peterson and Bob Tiller with their mother, Olive Tiller. Credit: JEANNE PETERSON (1), BOB TILLER (1)
Mr. Tiller and Ms. Peterson have weekly conference calls with a social worker at the continuing-care community where their mother, Olive Tiller, lives. He pays his mother's bills and handles her finances and taxes.
Ms. Peterson, 76, a retired lawyer, does what she can from a distance, arranging extra personal care and companionship for their mom, while also caring for her husband. "It's a double whammy in a sense," says Ms. Peterson.
The siblings do have layers of care, as suggested by Dr. Aronson. The five grandchildren, scattered in five states, visit, as does a woman Mr. Tiller's mother helped raise, who comes frequently from California. The daughter of his mother's late second husband helps too.
"They have been very helpful, but the decisions and responsibility I handle with my sister," says Mr. Tiller.