States With the Most Protections for LGBTQ Youth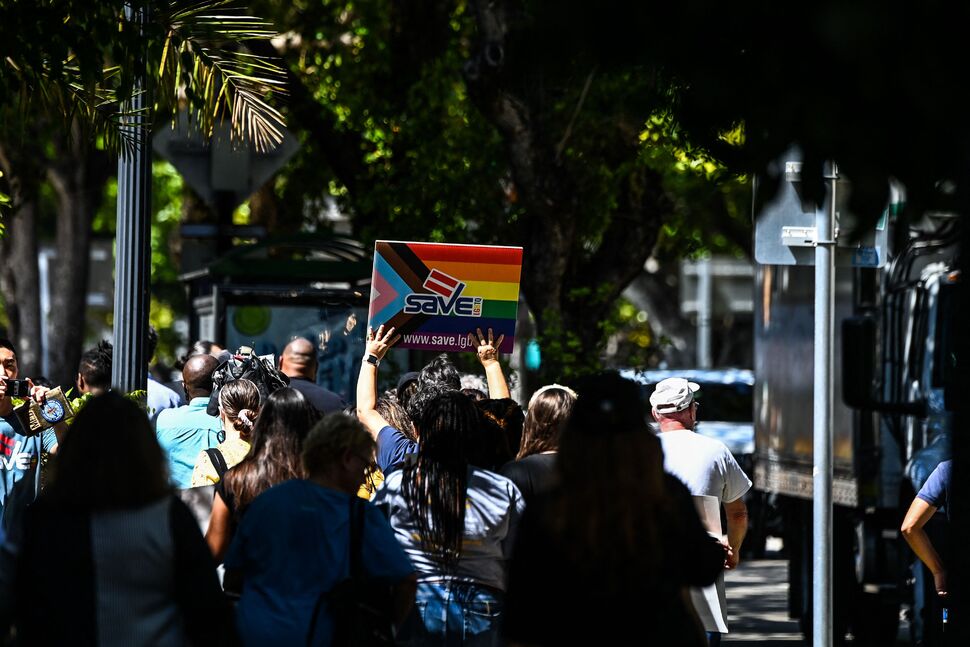 By Sharon Lurye March 14 2022, Updated March 20, 2022
People hold placards as they protest a bill that would limit what classrooms can teach about sexual orientation and gender outside the office of Florida State Senator Ileana Garcia in Coral Gables, Florida, on March 9, 2022.
Colorado, once known as "The Hate State," now tops the list of states with the most anti-discrimination policies in place for young people of different sexual orientations and gender identities.
California and Colorado stand out the most, along with Washington, D.C. According to data from the Human Rights Campaign, an LGBTQ advocacy organization, these states have laws in place that not only combat bullying and discrimination against young people with differing identities, but also address issues like LGBTQ youth homelessness and inclusive sex education.
To measure a state's level of protection, U.S. News looked at six laws or policies that could protect LGBTQ youth, such as anti-discrimination laws, and two that are considered anti-transgender or anti-LGBTQ such as blocking transgender students from sports or restricting discussions of LGBTQ topics in schools. California and Colorado have passed all six protective measures, while Illinois, Massachusetts, New Jersey, New York and Oregon have passed five.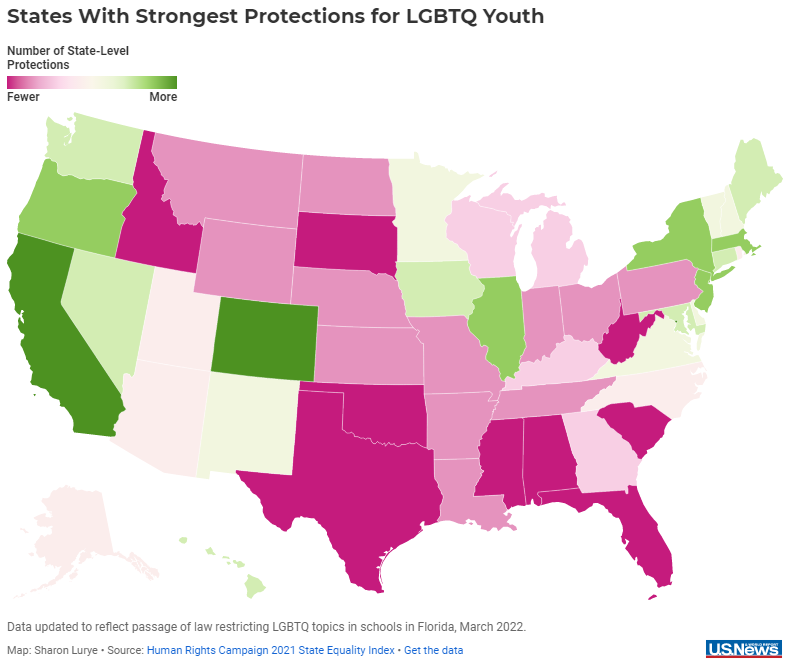 The fact that Colorado tops the list shows just how much can change in a single generation. In 1992, Colorado got labeled "The Hate State" when voters passed an amendment, later struck down as unconstitutional, that forbade cities from passing anti-discrimination laws protecting gay people. Now, the state has a gay governor (Democrat Jared Polis) and an LGBTQ caucus in the state legislature, which has passed a number of pro-LGBTQ bills in recent years.
"We've come from the Hate State to the No. 1 state in the nation for protecting LGBT youth, which is just fantastic," says Ryann Peyton, a board member of The Center on Colfax, an LGBTQ community center in Denver.
Notable laws passed in Colorado include a 2011 bill prohibiting bullying in schools based on sexual orientation or gender identity, a 2019 law that banned conversion therapy on minors and a 2021 law that forbade discrimination against LGBTQ children or parents in the adoption and foster care system.
Seven states, however, have none of the protections mentioned above: Mississippi, Oklahoma, South Carolina, Alabama, Idaho, South Dakota and West Virginia.
Texas and Florida also stand out, as they are the only two states that have passed laws to both restrict discussions of LGBTQ topics in schools and exclude transgender athletes from sports. Those states do, however, have one protection in place: according to Lambda Legal, they prohibit discrimination based on sexual orientation in the juvenile justice system.
Even in states that offer a wider variety of protections for LGBTQ young people, the national news about child abuse investigations in Texas or the bill restricting LGBTQ topics in Florida schools can have ripple effects. The Trevor Project, a suicide prevention organization for LGBTQ youth, released a poll in January that found that 85% of young trans and non-binary people reported negative mental health impacts due to debates over state laws affecting transgender people.
"Hearing about this is incredibly scary. I've cried more nights than not, to even think that I would be targeted and my child would be targeted," says Laura Lala-Chávez, executive director of the LGBT youth support center LYRIC in San Francisco.
Lala-Chávez said that the center is preparing for an influx of LGBTQ young people fleeing Texas and Florida, as San Francisco tends to be seen as a safe haven. Housing services will be a particularly critical need, since the city is quite expensive and LGBTQ people are at a higher risk of homelessness.
"It's a tender and vulnerable time for LGBTQ folks," says Nadine Bridges, executive director of the advocacy organization One Colorado. "I think people believed that because we have marriage equality across the country, that that was it. Now we're starting to recognize how much more work we have to do."
Note on Methodology:
States were considered more protective if they had laws, or in some cases policies and regulations, that did one or more of the following:
Explicitly protect LGBTQ youth from bullying and harassment
Prohibit discrimination based on sexual orientation or gender identity in public schools
Forbid licensed mental health providers from conducting conversion therapy on minors
Address LGBTQ youth homelessness, for example by requiring that service providers received training or have non-discrimination policies
Require sex education to be inclusive of LGBTQ people, according to law or regulation
Protect LGBTQ young people from discrimination in the juvenile justice system, according to law, regulation or policy
States were considered less protective if they have passed laws or executive orders that exclude transgender athletes from participating in school sports, or that ban teachers from talking about LGBTQ-related topics in schools, or requires those topics to be discussed in a negative light. Usually these laws are related to what can be discussed in sex education classes; for example, Oklahoma law requires that classes on AIDS prevention teach students to avoid "homosexual activity."