The Story of the First U.S. Civilian Team to Enter Ukraine Hospitals in 2022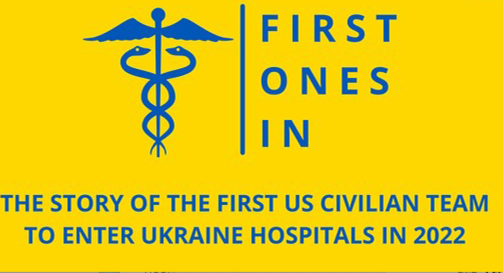 Dear Friends,
Recently, a good friend called me and asked if I would like to join a team of doctors and nurses from America going to Ukraine. "I'm In; when do we leave," I responded without hesitation. Those who know me understand I'm no stranger to big challenges and have never run from a fight or a call for help. As the first openly gay New York Stock Exchange member, a 9/11 survivor, losing two sisters and both parents, and four bouts of life-threatening cancer, I feel incredibly blessed, and I am eager to serve.
I will be joining a courageous team of American and Canadian Doctors and Medical personnel who will be supporting the overwhelmed medical staff of the hospitals inside Ukraine. This is a newly formed group calling itself "First Ones In." I like that name. It fits perfectly with the courage, character, and fortitude of the doctors who are going. Their sense of urgency is what compels this, our first mission.
The Mission of First Ones In is to respond expeditiously to the medical and emotional needs of the victims of war. We endeavor to heal the minds, bodies, and spirits of those human beings affected in the conflict zones. Without regard to race, religion, or political affiliation, we recognize how conflicts of war and disasters present severe and long-lasting trauma to humanity.
My job at present will be to help with logistics and to document, record, and write about the work we are doing. I will be taking photographs and video (where permissible). I will be writing a daily journal of what I see and what the doctors and nurses are doing.
Because the group is so new, we are in the formation of a 501c3 is in process, and we are currently building a website. So, my journal will be posted on a Facebook page I set up a few days ago. It is on that page where I will post daily journals with photos. Here is the link: https://www.facebook.com/Schubie171
For those who wish to contribute and support this team, we have an Indiegogo Fund Raising drive up and running.
Here is the link – https://www.indiegogo.com/projects/first-ones-in-medical-mission-to-ukraine/x/28820046#/
So, that's about the size of it for now. I will post as often as I can. I will stay safe and be careful. My eyes and ears are sharp, and my heart is open and full in the awareness that while the need is so great, that help is on the way.
With these courageous doctors and nurses, I will be part of a great team able to make a meaningful difference in the lives of those suffering the most.
God bless you. Please pray for us and for all of Ukraine.
Walter