With Disability-Centric Comics, A Young Woman Fills A Void For Her Best Friend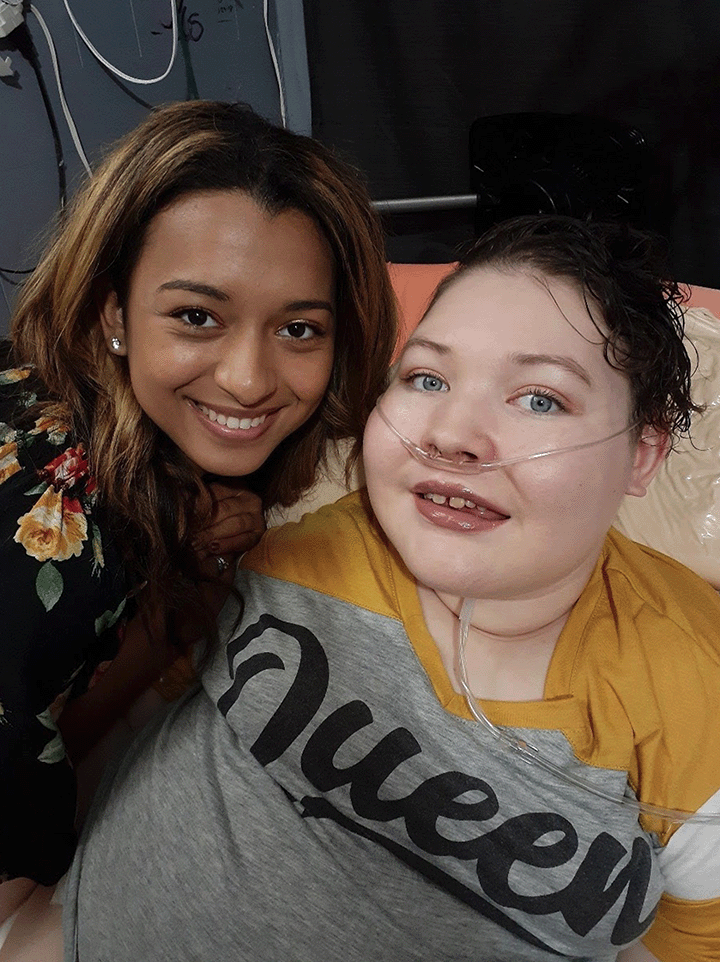 Forbes July 2021
Author: Allison Norlian
Trinity Jagdeo and Alexus Dick remember the day they met like it was yesterday. The kindergarteners were outside on the playground of Janvier Elementary School in Franklinville, New Jersey, when Jagdeo looked over and saw Dick playing hopscotch with other kids.
But there was something different about Dick — she was playing hopscotch in her wheelchair.
"I just thought that was so cool. It didn't matter that she had a wheelchair," Jagdeo said. "We just clicked, and ever since then, she's been by my side."
After the initial playground meet, Jagdeo and Dick became fast friends. Over the last 20 years, they have enjoyed everything from sleepovers to bowling and movies. Jagdeo even found inspiration in Dick for her first comic book series, as well as her newly formed nonprofit, From We Can't To We Can.
And although their friendship was typical, it wasn't always easy.
Dick was born with SMA type 2, also known as spinal muscular atrophy. SMA is a debilitating, hereditary, and often progressive disease classified as a disability if symptoms are severe enough to cause significant impairments. It usually affects both the central and peripheral nervous systems and voluntary muscle function.
In Dick's case, SMA type 2 affected her legs. As she got older, the disease progressed, making her unable to walk or stand, and leaving her to spend much of her time in bed.
Despite her disability progression, Dick and Jagdeo remained inseparable.
"I tried to be like every other kid," Dick said. "Trinity always told me to stand up for what I believe in. And just because other people would say I couldn't do things, that does not mean that is true."
For Jagdeo, being friends with Dick helped her see the world through a new lens and perspective. It taught her at an early age that differences are beautiful and the importance of advocacy.
"I'm always learning, and she's always teaching me something. Being in her community, I've been able to stand beside her and allow her voice to be amplified," Jagdeo said.
"This friendship is invaluable because most friendships aren't always teaching you something. It's humbling, and it's grounding."
Jagdeo and Dick's friendship grew even stronger around 2014. The girls were just 14 at the time.
Jagdeo had just finished a soccer game. Her mom picked her up and told her they needed to go to the hospital to visit Dick. Jagdeo didn't realize at first, they weren't just going to see Dick; they were going to say their goodbyes.
"She had contracted a disease where her immune system just started working backward, so her body was like killing herself," Jagdeo explained. "They didn't believe that she was going to come out of the induced coma that they had her in."
"I got there and, you know, seeing your best friend from my point of view, a normal kid and happy and just you know, doing stuff to that ….it was like, I don't think I ever got to process it."
During that hospital stay, which lasted six months, Dick passed away twice. Thankfully, both times, doctors were able to revive her. Jagdeo spent many days and nights at the hospital next to her best friend. She worked to comfort her, and the two spent countless hours binging movies and television.
Jagdeo had hoped to find a movie she could show Dick featuring a character with a disability so she'd feel less alone. But after searching and searching, she says, she couldn't find anything.
That was the light bulb moment: Jagdeo set out to improve disability representation in the media. First, she wrote to several Disney directors.
"I asked if they could write a Disney princess or Disney prince with a disability, and I didn't hear a response from them," she said. "A few years later, it was still on my mind, and instead of waiting around, I decided to create comic books with superheroes based off of real kids with disabilities."
She started the series in 2018, and so far, Jagdeo has created four comic books representing superheroes with various types of disabilities. The books have names like 'Victorious Victor' and 'The We Can Squad Saves The Day.' One of the comic book superheroes is based on Dick's younger brother, who also has SMA.
Jagdeo is very intentional in crafting the superheroes. They only use what she calls natural superpowers — or something attainable like super hearing or speed. (You won't see any webs shooting out of a superhero's hands in her series!) Jagdeo interviews the people the superheroes are based on to be more intentional about how they look, dress, and live their daily lives.
"When we make these books, we always ask what the kids want. Do you want a G-Tube? Do you not want your G-tube?" Jagdeo said. (A G-tube is a gastrostomy tube, a surgically placed device used to give direct access to a persons stomach for supplemental feeding and hydration.)
"We make sure we're super specific because the more specific we are, the more relatable it is to other people."
Through this journey and being friends with Dick, Jagdeo also came to understand issues with the American healthcare system, especially how it treats people with disabilities. Because of this, she created her nonprofit, From We Can't To We Can, to help people with disabilities with financial needs.
First, through book sales, Jagdeo was able to help Dick pay for a portion of her $40,000 wheelchair that insurance would only partially cover. The nonprofit has also received donations, like a $10,000 wheelchair that went to Dick's brother, whose insurance only covers replacements every few years.
Through fundraising and donations, Jagdeo says her nonprofit has also donated medical equipment, therapy items, and even groceries to people with disabilities and their families in need.
"I always say that this organization is in honor of [Dick], because I do not doubt in my mind if the roles were reversed, she would be doing the same thing," Jagdeo said.
"I feel like her spirit is embodied in mine, and I'm just doing the work that she would want me to do, and the disability community wants me to do."
Jagdeo hopes to release two more comic books by the end of the year. These are books she writes, designs, and publishes through Amazon herself. They are available on Amazon, Barnes, and Noble, and Jagdeo's nonprofit site.
For Dick, watching her friend become an entrepreneur with her as an inspiration has been exciting and an honor. Both girls hope the nonprofit grows and the comic books sell to help more people with disabilities and promote representation worldwide. They also hope to one day be asked to speak together on The Kelly Clarkson Show.
"I am so proud of her," Dick said. "I wasn't shocked because it's Trinity, but I am so proud of her. And just so blessed that she's able to do this."
Connect with Others about Disabilities, Discrimination and Equality