A Young Caregivers Journey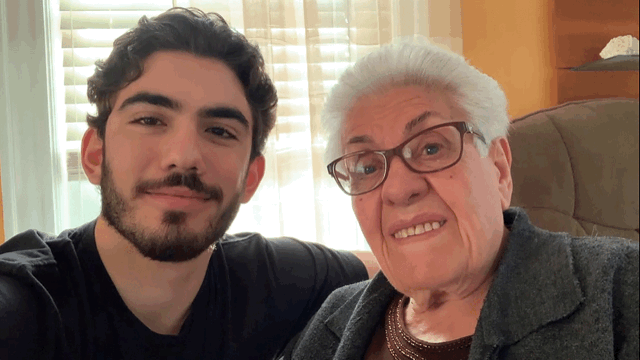 Dom Odoguardi June 2021
This story is about my personal family caregiving experiences and how inspired I am to share information with you about my passion.
21 years ago, my grandmother, who was 73 at the time, moved to Boston from her home in Italy. She moved to Boston when I was born to help my family care for me as I grew up. She has been away from her hometown for 21 years. This summer, I'm bringing her back to Italy to live out her remaining years and be buried next to her husband.
She took care of me for many years, but our family caregiving roles reversed when I was 7 years old. As she aged, she needed knee replacements, eye surgery, and diabetes treatment. For the past 14 years, I have been her family caregiver.
I'm not the one who gives her daily pills and medicine, but I am the caregiver who is by her side most of the day, keeping her company when she is lonely and feeling down. We cook together, watch Italian TV and enjoy a rich and rewarding kinship spending time together.
This past year was traumatic because my entire family got COVID, including my 93-year-old grandmother. I took care of her, my brother, and my mother during this time. Everyone got better, but the experience was traumatic for my whole family, and I cared for three other family members and myself at the same time.
I wondered how many other families were affected like mine. Although I read the news, as the virus continues to spread throughout the world, I don't know if we will be attacked again, and it's been worrisome.
As a college student, I volunteered to intern at Caregiving Network, a new network of family caregivers with an online platform to enable family caregivers to provide information anonymously and safely so everyone can participate, tell their stories, and get advice and support.
Once I began working with Caregiving Network, my life changed. I realized from my own experiences how valuable it would have been to find other family caregivers who could help me take care of my grandmother as a frail elderly person and the rest of my family at the same time.
I now have a cause that I can dedicate my efforts to make a real difference. I am determined to help other family caregivers come together to help each other during these trying times, especially after learning that 65 million other caregivers like me are trying to care for 130 million individuals who need help. It's become a disaster for so many people.
Working non-stop over the past six months, I coordinated 94 other interns who did research to identify over 10,000 local non-profits. Caregiving Network makes them available in 250 cities in over 30 subjects from an Internet browser to find close additional help. I search the news every day to find important information and inspirational stories to share on a daily blog.
We're working with students at UT Dallas to form the first caregiver club where students, professors, administrators, and alumni can come together to bring more family caregivers to Caregiving Network to help each other.
I'm now helping in preparing a series of live cast seminars featuring experts in aging, Alzheimer's, autism, caregiving support, cultural competence, mental health, mobility, pain management, and veteran support that will begin this summer.
I will continue to care for my family and work to include so many others as Caregiving Network grows into an extensive network of compassionate and caring individuals.
I hope my story inspires you to join Caregiving Network and participate as you wish. There are no demands put on you, and the service is entirely free. If you are a member, access to others will be available when and if you need support.
You can join us at https://caregivingnetwork.com. My name is Dom. I hope we run into each other soon!