Three Ways Employers Can Best Support Caregivers Returning To Work
Forbes July 2021
Author: Dana Brownlee
Hands down, one of the most challenged employee groups throughout the pandemic has been caregivers—those providing child or elder care while working. Prudential's May 2021 "Pulse of the American Worker" survey conducted by Morning Consult revealed interesting and insightful findings about American workforce expectations as many return to more traditional workplace settings. Of the 2,000 respondents 38% identified themselves as caregivers with nearly 40% of those providing care for school age children.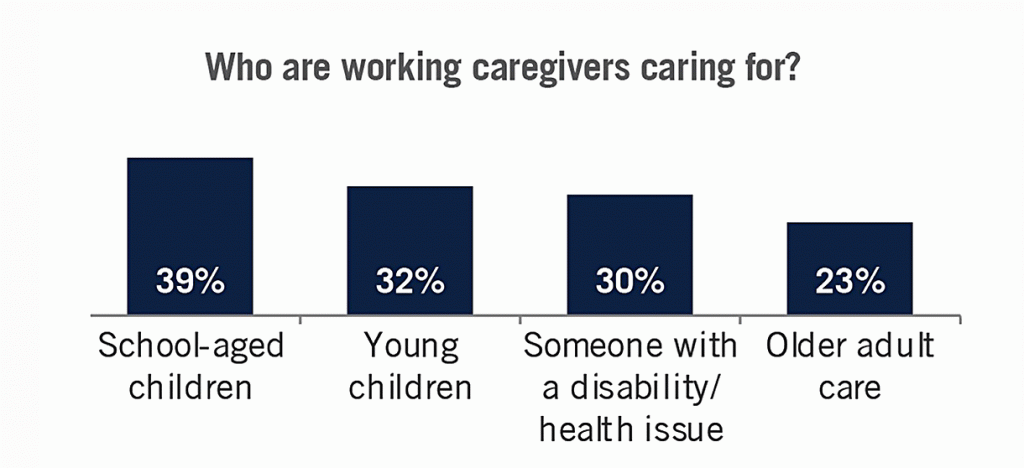 Arguably, as these caregivers return to a traditional work environment, they will have unique needs that may very well impact not just their ability to be successful but ultimately their choices about whether to continue on in their role. In fact, the findings show that 45% have considered leaving the workforce due to personal demands and 53% would retrain for a career in a different field or industry given the opportunity. Clearly, one of the most pressing challenges for organizations will be determining how to best support these caregivers to avoid losing great talent.
The survey found that the three primary types of support caregivers want most are increased workplace flexibility, more paid time off and a greater commitment to health and well-being.

Increased Workplace Flexibility
It should surprise no one as we approach "post-pandemic" status that flexibility has become more of a requirement than a luxury, particularly for those stretched thin trying to provide childcare and support extended family members. Indeed, for this particularly challenged group, the ability to adjust work hours or work from home as needed (or more frequently) may make the difference between their ability to maintain their current role or not.
The Harvard Business School (HBS) article "COVID Killed the Traditional Workplace. What Should Companies Do Now?" offers insights from scholars and thought leaders on how organizations can and should make adjustments to best support employees returning to work amidst these unique, unprecedented circumstances. Harvard associate professor Prithwiraj Choudhury implores organizations to offer flexible hybrid approaches.
"It is important to design hybrid-remote work arrangements that also allow for geographic flexibility and work-from-anywhere," insists Choudhury. "It is also important to plan for virtual watercoolers to foster informal social interactions in remote workplaces."
Increased Paid Time Off
For many caregivers, paid time off is actually more valuable than a pay increase (particularly for those at the higher end of the pay scale.) Those priceless days off create even more flexibility enabling workers to fully engage in external responsibilities and obligations. Citing a January 2020 Joblist survey, the CNBC article "Here's how much money workers would give up for better work-life balance" explains that for "the average worker who says they currently have work-life balance, it would take an extra $10,000 in pay per year for them to give up their personal time."
The article continues, "Just over 30% of workers said they'd give up part of their pay for better work-life balance, and the threshold varies by the type of worker." Arguably, greater flexibility and additional paid time off are two of the most practical and critical enablers of enhanced work-life balance.
Greater Commitment to Health and Well-Being
The pandemic has compelled organizations to place a spotlight on employee health and wellness—and keep it there. While health and wellness may have often felt like fleeting references instead of primary focus areas pre-Covid 19, the pandemic has shifted that dynamic in a very real way whether the focus is on mental health, policies enabling and encouraging physical health or prioritizing the safety of the workers' environment. Harvard senior lecturer John Macomber insists that providing assurances of a safe physical environment for employees returning to the office will be key.
"For employers (and landlords and other building operators), this means that signaling the health of facilities is crucial to attracting people back," explains Macomber in the HBS article. "Some facility owners are spending a lot on capital improvements for better filtration, or for ultraviolet lights. Others are spending a lot on work rules, distancing, or bringing in half of the office staff on half of the days."
Furthermore, Harvard professor Joseph Fuller suggests that employees will have heightened expectations in this regard. The article continues, "They will expect not only the right to determine the adequacy of workplace safety measures, but also expect employers to consider their individual circumstances, like caregiving obligations, when designing their roles and evaluating their performance. That is a major departure from the time-honored definition of the employer-employee relationship."
As professionals have generally become increasingly stressed and burned out over the course of the pandemic, caregivers will continue to face even more significant strain and pressure than the general workforce. As employers plan for an unprecedented return to the office, it will be critical to consider the unique needs of their caregiver worker population. Indeed, for many of these caregivers, traditional motivators may not engender desired levels of employee engagement.
While fun perks like break rooms with ping pong tables and Taco Tuesdays may be innovative and exciting, the truth is that caregivers will crave the basics—flexibility, time off and wellness. Hopefully, workplaces will listen and respond.